Digital Ad Sales Solutions
Maximize Ad Revenue from SMBs
Grow revenue with a highly focused full-cycle digital ad sales team.
Outsourced Ad Sales Teams
Dedicated to driving revenue and results at every stage of your customer journey
Maximize Ad Revenue with SMBs
The story is: we sell to big advertisers – it's big accounts, big budgets, big wins. But the longtail is how you gain long-term success. But SMB is FUNDAMENTALLY different. We know those fundamentals, we have proven results, we know how to do this – and we have done it multiple times for multiple companies.
You hire us so you get all the success without the burden of building and managing. We do it effectively and efficiently. We are high value, and we know how to do it FOR YOU. The cheaper outfits will ASK YOU how to do it.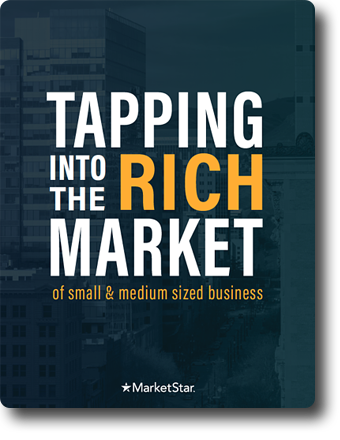 Free eBook
Tapping into the Rich SMB Market
Scalable Growth Through
Outsourced Digital Ad Sales.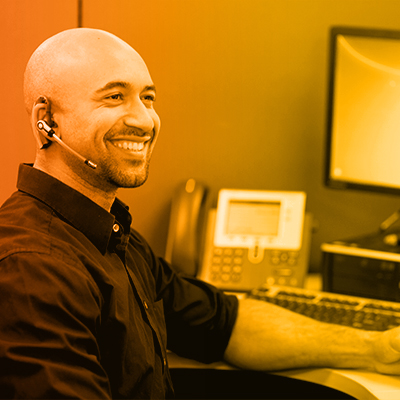 Sales Development
Nurture and engage prospects, set real appointments, and generate more active sales discussions.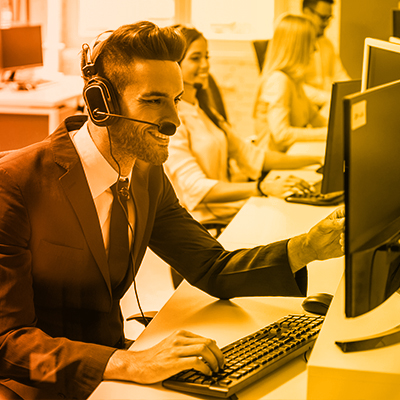 Close new SMB and agency customers through prospecting, nurturing, and tactical sales engagements that are designed to drive revenue.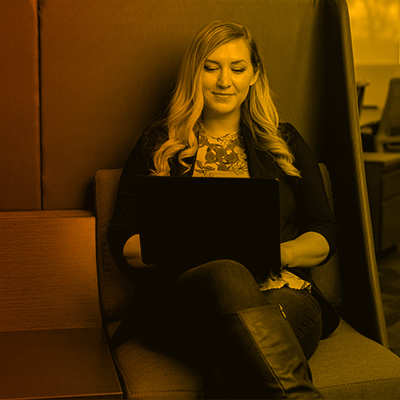 Account Management
Increase B2B and Agency ad revenue through upsell/cross-sell motions that drive customer advocacy and reduce revenue attrition.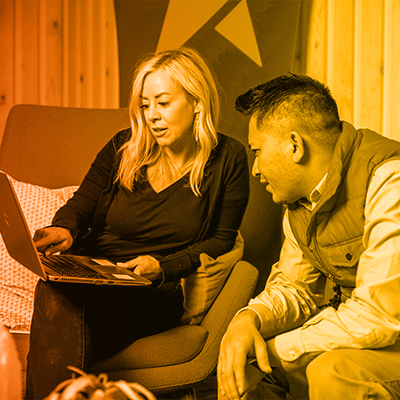 Ad Operations
Design and manage ad campaigns that utilize operational processes designed to scale your SMB business, increase ROI, and drive advocacy.
What Makes Our Partnership Different?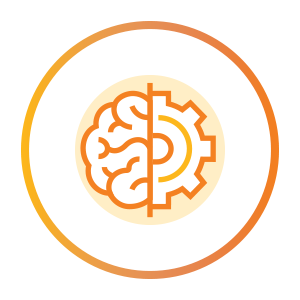 Digital Ad Sales Experience
$500M+ in client annual revenue, 10+ years of Digital Ads & Adtech program design and deployment experience, 85+ years combined leadership experience in Direct and Agency Digital Ad sales and operations.
Client-tailored sales processes and operations designed around a joint GTM strategy, extended program support from Sales Ops, BI, IT, HR, Recruitment, and Legal, as well as all-inclusive, fixed or variable billing models.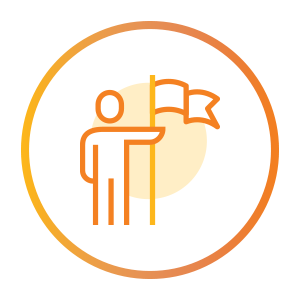 Client-Dedicated Resources
Client-tailored sales processes and operations designed around client & MarketStar strategy, ability to deploy strategic motions and experiment in new markets/products, and an all-inclusive dedicated program infrastructure.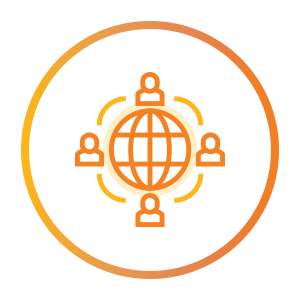 Scalable Global Operations
Flexible and repeatable sales playbooks, rep routines, escalation pathways, and technology workflows, an established QA and enablement best practice, global project management, training, and talent acquisition teams.
Want a Deeper Dive into Our Solution?
Overview Brief
Digital Ad Sales Solutions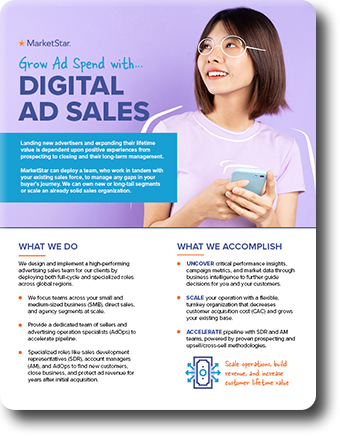 Grow Digital Ad Spend
Outsourced digital advertising sales provide the best way to find and grow customers. Our digital ad sales solutions are specifically designed to grow, accelerate, and establish your business.
As a true extension of your brand, MarketStar digital ad sales teams align with your unique value proposition, drive revenue, and ultimately grow your organization. Whether your business has an existing strategy or is looking for scaled enhancements, we can help.
How Do I Budget for This?
We can build the right budget to feed your GROWTH objective.
Read More Digital Ad Sales Insights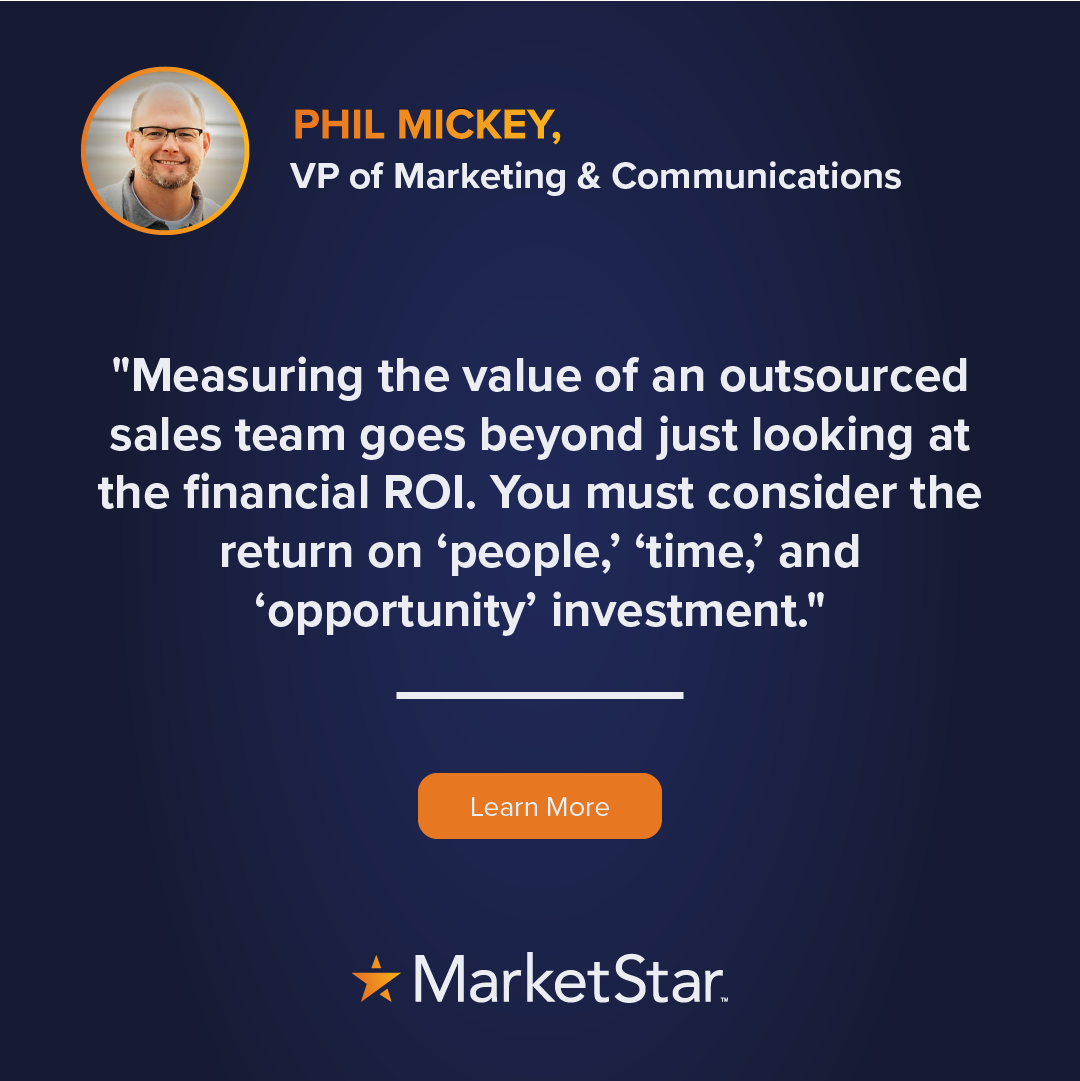 See the Buy vs. Build ROI infographic summary here Despite rapid market changes, looming economic disruption, ...
We sell ads for the world's biggest digital platforms.
Here's some of what we do for them ...
A global social media company partnered with us to maximize SMB ad revenue. MarketStar SDRs utilize proactive outreach and sales automation techniques to find, sell, and activate new advertisers. Putting the customer first, dedicated Account Managers seek to work as consultants with clients to help them find success and achieve their advertising goals.
We provide top-of-funnel services for a well-known music streaming platform across NAMER SMB and mid-market segments. SDRs used multi-channel engagements to identify new prospective advertisers, competing with traditional radio and other mediums. The team then navigated organizations via email, voice, and social to book meetings with decision makers, qualify leads, and facilitate new opportunities for sales reps.
A leading navigation company partnered with us to retain and expand ad spend on their mobile platform. AMs were assigned to Direct and Agency accounts and routinely engaged with active customers to drive platform advocacy and plan business strategy. In addition, AMs were expert campaign analysts and provided data-driven recommendation to maximize client ROI, leading to more opportunities and ad spend.
Outsourced B2B Sales Solutions
Design your revenue strategy, build your team, and accelerate growth.