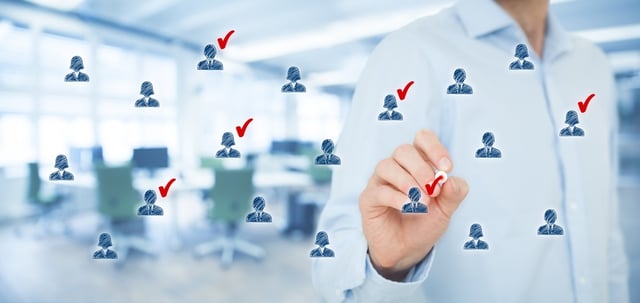 In today's highly competitive B2B sales climate, lead qualification has become an increasingly important part of the sales process. It not only saves you time and resources—by helping to ensure you're only talking to the right people—but it also provides customers with a more personalized experience, improves close rates, and boosts revenue.
However, many sales teams lack the time or experience needed to really focus on lead qualification. But consider this: On average, only 25 percent of leads are legitimate and will advance to a sale. Without a robust lead qualification process, your team is wasting time on three-quarters of their leads.
Of course, turning prospects into sales is easier said than done. But without qualifying leads, your salespeople are working hard to convert leads who aren't going to turn into customers no matter what they try.
To hone in on the right leads, it's important to understand the three core levels of lead qualification: marketing qualified leads, sales accepted leads, and sales qualified leads.
Marketing Qualified Leads (MQLs)
The first stage of leads, MQLs, are those who have been deemed qualified by a company's marketing team. Generally, these leads are more likely than others to become customers.
A lead might be considered to be qualified by marketing if they are flagged in lead intelligence software. Or, the person may have taken a specific action that indicates interest, such as downloading a piece of content or signing up for a webinar. These specific behavioral actions can help qualify an MQL and are signs that a lead is ready for the next step.
Sales Accepted Leads (SALs)
When a lead is determined to be an MQL, they are passed on to the sales team for further investigation. At this point, the sales team works to gather additional information on each lead to determine whether to accept them.
At each individual company, the sales team should determine what constitutes an SAL. A reliable way to qualify an SAL is through the ANUM method:
Authority: Is the lead a decision maker at the company?
Need: What does the lead need, and would your company's product or service meet that need?
Urgency: How soon will the lead need to make a decision?
Money/Budget: Does the lead have the money to buy your product or service?
After SALs are evaluated based on these four criteria, each lead is either discarded, sent back to marketing for further nurturing, or developed even further along in the sales pipeline to become a sales qualified lead.
Sales Qualified Leads (SQLs)
If a lead is qualified by marketing and accepted and vetted by sales, they then become an SQL. Typically, a prospect becomes an SQL after they have been nurtured by the sales team; however, some SQLs enter the sales funnel at this late stage of their own volition.
In most cases, SQLs are nearing the end of the Buyer's Journey. They are relatively invested in the purchasing decision, but before they become customers, they may have specific questions or need some one-on-one time with a sales rep.
At this stage, it can be helpful for the sales team to leverage any information gathered on the lead during the MQL phase, such as resources they have downloaded. Then, the sales rep can have an informed discussion with the lead about their needs and how your products or services can help.
A Worthwhile Exercise
Lead qualification takes time and effort—there's no doubt about it. But when sales and marketing work together to guide leads through the three phases mentioned above, they wind up with stronger leads in the long run. In fact, Forrester reports that a targeted sales nurturing program results in 50 percent more sales-ready discussions at a 33 percent lower cost.
Of course, not every sales team is equipped to handle lead qualification from end to end. This is one key function that can readily be outsourced to a Sales as a ServiceⓇ provider. By partnering with an experienced Sales as a Service provider that specializes in lead qualification, your team will benefit from higher-quality leads as well as ample time and resources to guide prospects through the final stages of the Buyer's Journey.