Growth is a positive thing. Whether it's financial or personal, growth means progress. When we talk about the growth of a business, we are referring to the process of increasing the size, revenue, and market share over time. At MarketStar, we are proud of our purpose to "Create Growth", because over the last 35 years this is what we have done successfully for our clients and our people all over the world. However, the growth we create isn't about a quick fix and rapid expansion.
Practicing the art of creating sustainable and profitable growth is a combination of expertise and experience. And while it may appear easy on paper, there are numerous examples of companies who could not keep up with their own growth. We often find that organizations focus on intense growth instead of creating scalable processes to sustain that growth in the future. According to Business Harvard Review " today's medium firms are larger and older than at any other time in the past 35 years; yet an increasing percentage of medium firms incur losses, have lower profits, and have lower growth despite spending larger amounts on experimentation and innovation."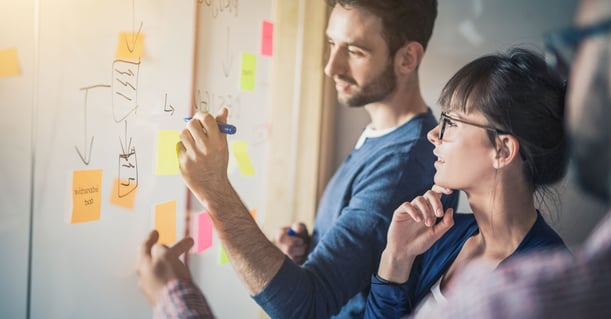 This explains why in recent years, we have all seen many companies, sometimes even large enterprises who experienced rapid growth only to land in the red. US Bureau of Labor Statistics reports 20% of all businesses close within the first two years of being established.45% of businesses collapse within the first five years, and 65% don't make it past 10 years. Only 15% of businesses survive it past 15 years. According to Investopedia, one of the main reasons is expanding too fast. Growth is essential and the companies that have a scalable business model can reap the benefits of it for years, putting them in the pond of organizations that make it past the 15-year mark.
What is scaling?
Keeping the overhead costs at minimum while your revenue grows at a faster pace is a strategy called scaling. Scaling done right is a recipe for sustainable growth. Scaling needs to be executed very efficiently to produce results. Here are a few elements that contribute to success of scaling:
High customer retention rates
Good leadership
High employee retention
Scaling isn't as easy as you may think - an article written by Jason M. Lemkin, founder of SaaStr, titled "12 of the Most Common Mistakes Scaling Your First Sales Team" quickly motivated me to start the process of uncovering all the challenges that companies face when trying to scale. It turns out that scaling is not only hard for startups, in fact large organizations face even more complex obstacles. In his article, Justin mentions mistakes such as hiring underperformers, insufficient training, expecting people to do too much or too little and not paying sales reps appropriately. And while his article focuses on startups and young companies, the points he brought up made me realize that again, outsourcing is not only one of the solutions. Outsourcing is THE solution.
Many companies who want to adapt the concept of scaling may still struggle with putting their strategy into practice. While scaling needs to be done quite rapidly, scaling too fast or not having your bases covered may cause a drop in your product and customer service quality, or leave employees burnt out. Let's have a look at some usual challenges that companies face and figure out how MarketStar can help you solve them.
Lack of automating processes
Having a solid and well-integrated tech stack that can remove repetitive tasks and streamline your sales processes is necessary. CRM (Customer Relationship Management) software, AI-based tools, sales analytics, or sales automation platforms are a few examples that improve sales performance, streamline sales process while driving productivity which in turns leads to generating revenue while keeping the costs down.
What can MarketStar do for you?
We don't only have access to the latest technology, tested processes, and comprehensive analytics but we are trained in them and understand that leveraging those tools is critical for success. What's more, it takes us only 6 -8 weeks to implement the changes and integrate them with your existing tools.
Bringing your sales team up to speed
Scaling a sales team is usually powered by demand, which means it needs to be done quite fast. This urgency may not only make you hire the wrong candidate, but hiring and ramping up a new sales rep can take 10 months or more until they're fully productive. Employees who don't yet produce results, produce additional costs for your business.
What can MarketStar do for you?
Our greatest strength is our people and one of the biggest advantages of working with us is our quick access to a large pool of talent. Our hiring, onboarding, and training processes are quick, but not rushed, because we want to keep our reputation of an outsourcer who delivers on a promise of getting you the most experienced people who match your business needs to a T. Our teams consistently drive revenue within four to six months of launch. What's more, outsourcing gives you the flexibility to scale down if needed while also absorbing all additional costs related to your sales team, like benefits, taxes, etc.
Loss of focus on quality
It may become challenging to maintain the same level of quality control across all business operations. Ensuring consistent product or service quality as well as brand image can be a significant challenge, especially when expanding into new markets. Employees who wear too many hats or are simply overworked may not be as productive or attentive as you need them to be.
What can MarketStar do for you?
One of the biggest perks of outsourcing is that our focus is solely on direct inside sales or specialized customer success, depending on the solution you choose, and our goal is to offer uninterrupted high-quality service and product, while creating profitable growth for your organization. This enables your in-house team to focus on their primary job functions, resulting in lower burnout and higher employee retention.
Additionally MarketStar specializes in digital media and ad sales as well as outsourced partner channel teams and enablement for a holistic end-to-end strategy.
Regulatory compliance
This can be a significant challenge for businesses especially as they expand globally. Complying with all relevant laws and regulations can be complex and time-consuming. And let's not forget that done incorrectly can create a bunch of costly legal problems for your organization.
What can MarketStar do for you?
Our continuous partnership with rapidly growing businesses as well as Fortune 500 companies proves that we have all the tools and expertise to deploy legal and highly efficient programs anywhere in the world. We know the local employment laws and restrictions in the locations of our every client, and always ensure we operate within the bonds of any laws and regulations.
Scaling a business is a complex process that requires a willingness to adapt and involves making tough decisions. However, with the right strategy and a helping hand from your outsourcing partner, scaling a business can lead to much more than just success - a profitable and sustainable growth. Whether you're preparing to scale a sales team or look for ways to enter new geographies or markets - we have done it all for over 35 years and are confident that we can help your organization in achieving the potential it has.