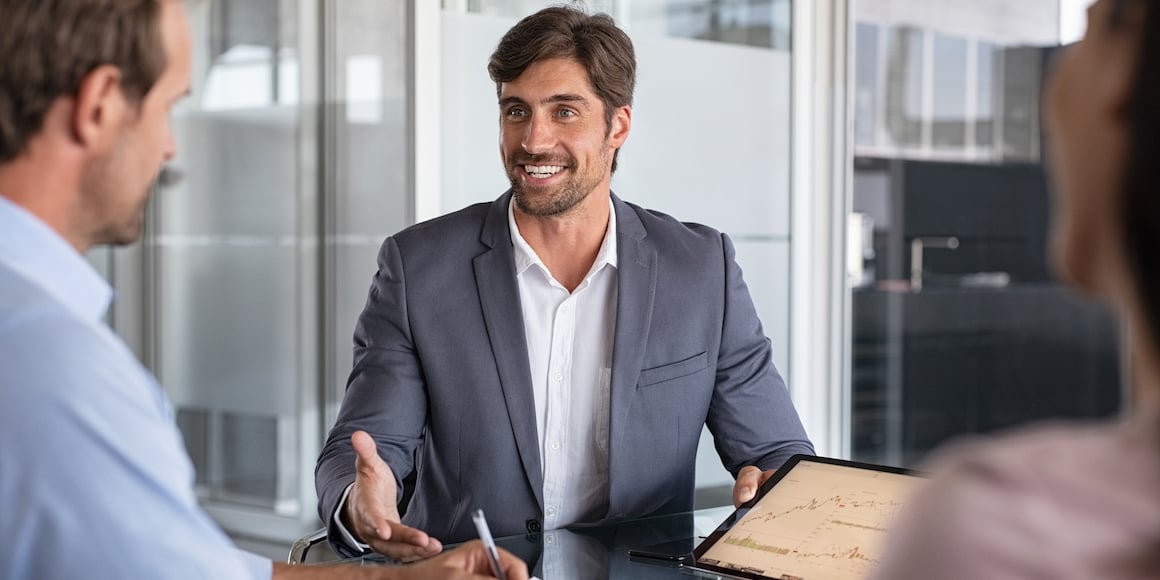 When it comes to selling B2B technology, landing an enterprise deal is like grabbing the brass ring. Enterprise sales generate more revenue with larger and higher-value contracts. Enterprise sales also lead to longer engagements, which means ongoing revenue and more opportunity to cross-sell and upsell.
When calculating business revenue, how do you calculate the real value of enterprise deals? There are several variables, and the scope of an enterprise project tends to shift over time. So how do you estimate the revenue from enterprise sales?
What are enterprise sales, and how do they differ from SMB sales?
Enterprise sales are also called complex sales because they include different technologies and interdependencies. Since they have an impact on a larger group, there are more stakeholders and more decision makers involved. They also represent a larger investment for the customer, which means higher risk, so they take longer to close because the buyer can't afford to make the wrong choice.
Enterprise sales differ from SMB sales in several key respects. First, SMB sales are increasingly becoming self-service where the buyer researches potential solutions and often makes a buying decision before contacting the vendor. Most SMB deals are transactional sales where the buyer is looking for a specific product and purchases it off the shelf with little or no customization.
Enterprise sales require a more hands-on approach. Sales reps need to take the time to research prospects' needs, identify the right decision makers, and develop a targeted sales pitch. Enterprise deals tend to be highly customized, requiring sales engineers and technical resources to review requirements with the prospect and develop specialized solutions.
Another key difference is the decision-making process. With SMB sales, you are usually dealing directly with the decision maker—typically the chief technology officer (CTO) or CEO. The budgeting and buying process is much simpler, which means a shorter time to close.
With enterprise sales, you need to build consensus. In addition to the executive responsible for overseeing the technology acquisition, you will also have to deal with other department heads, project managers, administrators, and stakeholders. Much of the time that goes into enterprise selling is spent overcoming objections and ensuring everyone agrees. That's why it can take six months or longer to close an enterprise deal.
In addition to consultation and customization, you need to be prepared to show ROI. Since enterprise deals are much larger, the stakes are higher, so the return must be demonstrated. Provide metrics that prove ROI, and be prepared to show both short-term and long-term ROI.
How do you assess the real value of an enterprise deal?
When selling to enterprise customers, value will have more sway than price. SMB buyers tend to be price-sensitive, which is understandable if you are looking for an off-the-shelf solution. Enterprise customers, however, expect a high-touch sales process, including bringing in the additional resources needed to meet their unique needs. They are willing to pay for the value of the added service or solution.
The enterprise sales process is a consulting initiative where you're challenged to deliver a solution that can be integrated into the customer's infrastructure to fulfill a specific goal. Enterprise selling becomes smoother and faster when you approach it as a consulting initiative and follow the four basic steps of consulting:
1. Discovery
This is the preliminary stage where you learn all you can about the prospect, their enterprise infrastructure, and their pain points. This is also the stage where you must consider what it will take to close the deal, who is influencing the sale, and where you need to get buy-in.
2. Diagnosis
Having a longer sales cycle provides more opportunities to assess the prospect's needs. The discovery process should give you the big picture, and the diagnosis process lets you dig deeper to understand core issues, how to overcome them, and where your solution fits. You will need to enlist help from sales engineers and others to help diagnose the problem and develop the best solution.
3. Design
During the design phase, you take what you have learned during discovery and diagnosis and devise a solution that will include technological components and time frame. Working closely with the client on designing a solution will help you cinch the deal.
4. Delivery
Once the final proposal has been reviewed and accepted, you are ready to deliver the solution.
The enterprise deal size only starts with the initial contract, which will include the cost of the technology, consulting services, support fees, and so forth. Even if the deal is structured at a set price, you will still need to provide ongoing support and service since the solution is customized, which means additional fees. There are also opportunities to upsell and cross-sell.
Unlike transactional sales to SMBs, enterprise engagements are lasting relationships. Once the solution is in place, replacing it would be expensive and require starting over with another vendor. The more complex the deal, the deeper the working relationship and the greater the value to both parties.
How can outsourcing help you close more enterprise deals?
To tame the complexity of enterprise selling and shorten the time to close, gather more resources to help with the deal. The most effective way to approach enterprise selling is using account-based sales. A skilled sales-as-a-service provider can assist with lead qualification and assessment to help you focus on the right targets. They also can help with research to find the right decision makers and provide sales and engineering support where needed.
The right sales partner can also assist with analytics. They will have the technology, tools, and research you need to understand the sales data and the market to make it easier to estimate the size of the deal. An outsourced sales partner can also provide specialist staff to assist with closing the deal itself as well as support once the contract is closed, which may include onboarding, managing customer success, and identifying new sales opportunities.
There is no reason to tackle enterprise sales alone. We can supply expertise when and where you need it. To learn more, be sure to read our guide, The Full B2B Sales Team: Specialized Sales Roles to Accelerate the Sales Cycle.