As we teased here, our website has taken a step forward in evolution.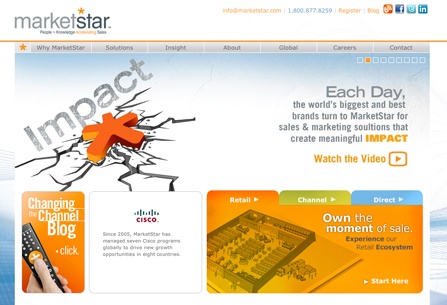 The venerable Seth Godin threw down the gauntlet to all who profess to be marketers when he published his revolutionary book "Purple Cow." His challenge to all was to be remarkable:
"Remarkable Marketing is the the art of building things worth noticing right
into your product or service. Not slapping on marketing as a last minute add on,
but understanding that if your offering isn't remarkable, it's invisible."
–Seth Godin
The updates to the website come in an effort to elevate just how remarkable we feel our solutions are. Of course, that means nothing coming from us. Being remarkable requires our products and services to be worthy of your remarks.
You'll notice right as the site launches that we've embedded our "Impact" feature video into the homepage. If you haven't taken the chance to watch the video, check it out now.
Our solutions pages have been rewritten and retooled to better describe and expand on the products and services available by channel. We've also added content to support some of our new and emerging solution groups like Alternative Retail and MarketPro. Each of these offerings also has a PDF overview you can download to learn even more and many of them have case studies to validate the success of our programs. These offerings expand the strategic MarketStar services hundreds of the world's best brands have turned to for strategic sales and marketing solutions for more than 20 years.
To help clients and prospects better understand just how diverse our solutions are and how wide-reaching our impact is, we've created flash-enabled ecosystems of each of our three core proficiencies: retail, channel and direct sales and marketing. Our plan is to devote individual posts to each of the ecosystems, but we are very interested in any feedback you might have on their usefulness.
It's not our intent to create a remarkable website; if that were our primary goal we'd be amiss. Our goal is to create resources that can be used to show just how remarkable MarketStar can be. Look for more on our evolution and story in future posts.