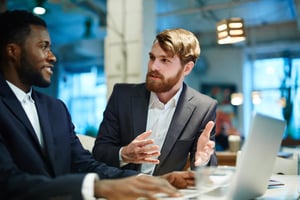 Selling any technical product is a team effort. Sales representatives need support from customer service, accounting, operations, and, perhaps most important of all, sales engineers. When you close a complex engagement involving multiple components, integrations, and customizations, you need the support of the sales engineering team to help with presales and to handle fulfillment. However, even the most seasoned sales professionals still get confused about the role of sales engineers and how best to include them in the sales process. That's why it's essential that sales managers understand how to manage both sales reps and sales engineers.


In many organizations there is an ongoing misunderstanding between sales reps and sales engineers. Sales representatives are unclear about how to make use of the engineers' skills and often bring them in too soon or at the wrong time to support the sale. There are a number of misperceptions about how sales engineers fit into the sales process, especially among sales reps. For example:


Sales engineers will make the sales rep look unintelligent. Many sales reps believe that involving the sales engineer early in the sales process will reveal how little technical knowledge they really have.
Sales engineers help me by giving away technical advice. Some sales reps incorrectly think of engineers as free consultants, offering up their technical advice to close a deal or fill their prospecting quota.
Sales engineers derail the deal. Sales reps worry that sales engineers will show off their technical knowledge without connecting product features to business benefits, thus souring the deal.
I have to have a sales engineer in every meeting. Sales reps feel pressured to bring an engineer to every meeting to fill in the gaps in technical knowledge and boost their confidence.
These are common notions about the role of the sales engineer, but they are all very wrong! Sales engineers need to work with sale reps to provide support where needed, and it's up to sales management to define the role of both reps and engineers to help them work together.
Collaboration is the Key
What is the difference between a sales rep and a sales engineer? The basic differences are obvious—sales representatives present the larger value proposition and manage the customer relationship, and sales engineers provide technical insight about deployment and implementation, putting the value proposition into practice. Sales engineers are strategic partners who can be included in both the presale and post-sale processes to answer questions and provide technical information. Managing sales engineers is largely a matter of knowing when to tap their expertise and establishing the rules of collaboration between the reps and the sales engineers.
For example, asking an engineer to demonstrate a product on a cold call is a recipe for failure. To make an effective presentation, the engineer needs to understand the prospect's business, their points of pain, and the problem they want to solve. That means having the rep and the engineer review their strategic plan in advance so each can do his or her homework. Ideally, sales engineers should be involved with the sales process early on, collaborating with the sales reps to improve the chances for a successful deal.
When managing sales reps and engineers, it's also important to clearly define areas of responsibility. That means that primary customer interaction should be handled by the sales rep, including the setting of contract terms, the scope of work, and pricing. While the sales engineer should be there to offer support, but only by keeping the sales rep informed; the engineer should be careful not to make statements or promises beyond the scope of the customer agreement. Both the sales rep and the sales engineer need to understand when to defer to each other.
Sales Engineers and Channel Support
Sales engineers can also be instrumental in supporting channel sales. For example, sales engineers can:
Assist channel reps with technical support both before and after a sale.
Help train channel reps to align value statements and even obtain certification.
Help sales reps with proposals and customer presentations, offering technical insights to reinforce value statements.
Report back to the senior team, highlighting potential issues as well as activities.
Provide remote product demonstrations and solutions support.
Address complex problems and integration issues as part of the sales process.
Sales engineers are an invaluable part of your sales team if you understand how best to use their expertise and include them as collaborative partners. Clearly define their areas of responsibility, and encourage sales reps and sales engineers to share information and work together. The better the collaboration and communications, the better equipped your sales team will be to impress customers and prospects and deliver superior solutions that will cement customer relationships.