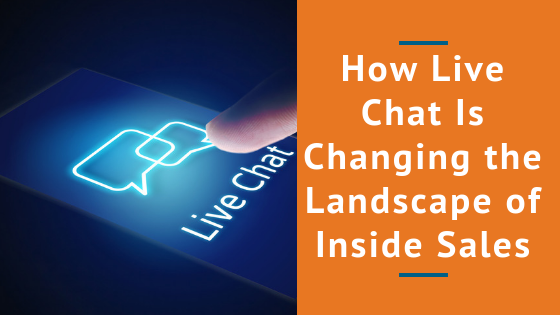 More companies are using live chat for leads. You are undoubtedly familiar with live chat as a sales and customer service tool. How often have you visited a website looking for information only to see a live chat box pop up in the bottom corner? These chat boxes aren't sales bots; they are live sales reps looking to provide business-critical information that could turn a curious website visitor into a viable prospect. This is how you apply live chat for leads, and it is changing B2B sales.
Customers have shown that they actually prefer live chat for sales related interactions. According to a survey by J.D. Power, 42 percent of customers prefer using live chat, compared to 23 percent who use email and 16 percent who use social media. That's because web visitors are looking for information and answers in real time when they ask questions, not later. Research shows that the average customer service response time for social media is 10 hours, and the response time for email is 17 hours. But with live chat, visitors on average receive answers to their questions in two minutes.
B2B prospects looking for specific information prefer live chat for a variety of reasons:
79 percent say they like having their questions addressed immediately.
51 percent like chat because it allows them to multitask.
46 percent see chat as the most efficient form of communication.
38 percent say that once they use chat, they realize how effective it can be.


Getting More from Live Chat
Statistics show that 71 percent of B2B researchers start looking for new products with a web search, and most B2B buyers make 8-12 searches before talking to a sales rep. With live chat, you dramatically increase the chances of engagement, whether it's on the first visit or the 12th.
B2B buyers typically use live chat when they are considering making a purchase. By the time they engage, they are likely in the consideration or decision stage of their journey. They have already identified the problem and potential solutions, and they are now trying to narrow the field.
Since they are in the final decision-making stage, most chat questions will revolve around features, benefits, results, pricing, and options or bundles.
A well-run live chat system provides immediacy. It helps you close prospects faster by giving them the answers they need without delay or hold times. As a result, there is a 10 percent increase in order value, a 48 percent increase in revenue per chat hour, and a 40 percent conversion rate, according to Forrester. Another study by Boldchat indicates that web shoppers who use chat are worth 4.5 times more than shoppers who don't.
In order to get these kinds of results, however, you have to understand how to effectively use live chat for leads. There are best practices that are shown to increase your chat conversion rates.


How to Use Live Chat for Leads
First of all, your chat system needs to be human. You don't want to ask prospects to pass a Turing test, and you don't want them to think they are talking to AI. It's easy to fall into a robotic chat pattern—chat can be an impersonal means of communication. Your first goal should be to establish a human connection.
Start with an introduction such as, "How are you today?" or, "How is the weather where you are?" The interaction should be structured to establish a rapport. Starting responses with phrases such as "great question" shows interest and that you care about what the prospect needs. You should even feel free to respond to jokes with common chat phrases such as "LOL" or "haha" in order to make the interaction feel natural.
Don't try to sell. The prospect is likely far along in the decision-making process, so they are looking for final details and validation that they are making the right decision. Be helpful first. Then you can qualify the lead as you go. As they ask questions, you can respond with qualifying questions to ensure you give them the right response and learn more about their needs at the same time (e.g., "Good question, but can I first learn a little more about your company and the problem you are trying to solve?").
Be concise. The prospect is looking for short, simple answers to their questions. They don't want to enter into a long dialogue, which can be incredibly tedious when you are typing back and forth. The average chat conversation should be only a few minutes. Also, watch for lag time. Many sales representatives are handling multiple conversations simultaneously, and you don't want multitasking to interrupt the natural flow of engagement.
Eliminate the word "no" from your chat vocabulary. "No" shuts down the conversation, and you may lose that prospect forever. If you don't know the answer or want to avoid a "no" response, you can ask more questions to clarify. For example, if they ask about a specific feature that you don't offer, rather than saying, "No, we don't have that," counter with questions to gather more information about why they want that feature and see if you can suggest alternatives.
Live chat for leads can be a powerful tool in solution selling if you understand how to use it. More companies are recognizing the power of live chat as a prospecting tool, and even if they don't have the resources to host their own chat support, it's a service that can be readily outsourced to a qualified sales partner.