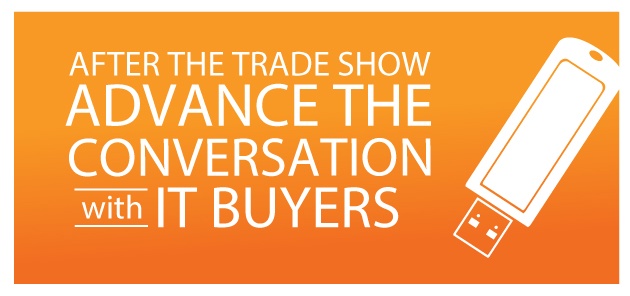 Traditionally, trade shows have been a great way to increase market visibility and gather sales leads. Having a booth at a major trade event allows you to speak with prospects and other professionals, learn about what they are seeing in the market, and even talk about points of pain and challenges that your company might be able to address. Unfortunately, trade shows have been on a hiatus since early 2020 due to the pandemic, but there are still virtual trade events, online roundtables, and webinars that attract sales prospects seeking answers. Once you get their contact information, what's the best strategy for following up with leads?
Despite the time, effort, and money that goes into trade shows and online events, the leads they generate are too often ignored after an initial flurry of follow-up emails. According to Exhibitor Magazine, while 98 percent of exhibitors collect leads at trade events, less than 70 percent have a formal process for following up with leads, and only 47 percent track leads through the sales process. Seventy-two percent don't even measure whether event leads turn into sales, making it impossible to determine the ROI on trade shows.
Trade show leads may not be as qualified as leads coming directly from other channels, but they are still extremely valuable and should be properly qualified to receive appropriate follow-up.
Here are three strategies to consider when following up with leads after a trade show or event:
1. Qualify your prospects.
One of the challenges of trade shows or online events is that there is no way to determine buying interest in advance. Anyone who spends that time and money to go to a trade show or conference or even taking an hour for an online event has some interest in your offering. Ninety-two percent of trade show attendees say they are searching for new products. However, you still have to determine if they are ready to buy from you.
Your first task is to qualify your trade show leads, determining which contacts are legitimate prospects and which ones are tire kickers, competitors, industry watchers, or fall into some other category. Not every contract from a trade show or event may be valuable as potential sales, but they may be valuable as channel partners, trade press, or industry influencers so, after categorizing the leads, be sure to share them with the right people in other departments. Ideally, you were able to make notes on each lead when it was captured to help qualify them. Even comments on the back of business cards can be helpful.
2. Nurture your trade show contacts.
After making an initial pass through the list of leads, you have to further qualify those contacts that meet your criteria as prospective customers. Even though they might be at the right company with the right title doesn't mean they are ready to make a buying decision. You have to further qualify them and determine where they should be added in the sales pipeline.
The good news is that you already have made personal contact. Those leads have either spoken with you or one of your colleagues face to face or they have shown enough interest to provide contact information. That means they won't be surprised to hear from you either by email or telephone. Remember that these days, digital interaction is the preferred means of communication, so send an email and only call if you are sure the party on the other end is waiting to hear from you.
If trade show attendees are looking for information about new products, then they likely are looking for a solution to a specific problem. When following up on trade show leads, your goal is to solidify the connection with those prospects by helping solve their problem. Ask questions. Find out what they need. Determine if you are in a position to help them and then move them into the right segment of the sales queue.
Even if they aren't ready to buy today, if you are helpful, informative, and prove yourself to be a valuable resource, then you will make a lasting impression and that prospect is more likely to come back to you in the future.
3. Engage to close.
Today's B2B buyers aren't interested in hearing a sales pitch, but they are willing to listen if you have something interesting and educational to share. When moving trade show leads into the sales funnel, continue to provide the information they will find valuable. Meaningful follow-up will keep them engaged until they are ready to buy.
Take the long view on prospect engagement when working with trade show leads. Continue to educate and inform them so they understand your value proposition and how your solutions fit in their world. Remember that leads gathered at trade shows and online events tend to be highly qualified buyers and influencers. Even if they aren't ready to step up with a purchase order today, continue to engage with them until they are ready for the next step.
It pays to have a process in place and engage outside sales support to keep trade show leads warm and engaged. Rather than spending valuable sales rep time regularly forwarding the latest analyst report or updated product information, you can use a Sales as a Service® provider that specializes in lead qualification and lead nurturing. They can assist with trade show lead qualification as well.
It is expensive to capture trade show leads, so you should plan to make the most of every new contact. Don't harass them with weekly calls but treat them with respect. Take the time to qualify them and use ongoing digital outreach to keep them engaged until they are ready to talk. With the right approach and a little extra TLC, trade show leads can become some of your most rewarding customers. Check out our e-book, 5 Outsourcing Strategies for Inside Sales to learn more.