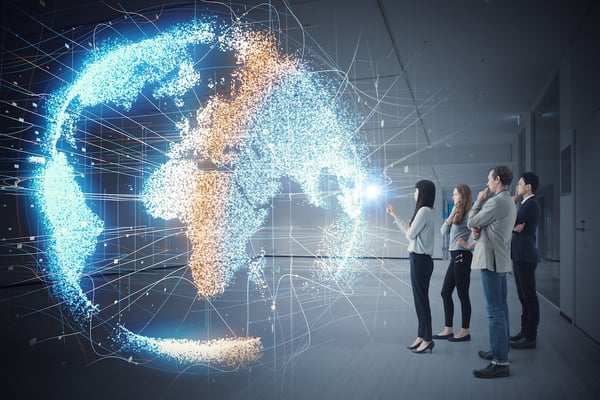 Strategies for B2B sales have changed with the coming of the digital age. The days of cold calling are over, and we have entered a new era of B2B sales driven by customer experience (CX) and customer service. Today, selling is more about making a connection and solving customers' problems than it is about making a hard sales pitch to close a deal. Welcome to the age of digital selling.
One of the most prevalent characteristics of digital selling is the concept of self-service. Thanks to technology, prospects have become harder to reach. Ninety percent of C-level say they no longer respond to telephone or email solicitations. However, B2B companies still need goods and services, but rather than being sold, they seek out what they need. This has changed the role of the B2B sales rep from salesperson to sales consultant, helping customers solve their problems. They have to address pain points quickly, and be prepared with solutions if they want to close a sale.
Today's Prospects Are Self-Selecting
Forrester Research predicts that 1 million B2B sales jobs will be lost by 2020 as more professionals turn to the web, proactively seeking business solutions. Websites are now the first point of contact for new customers. Keywords and selective searches have taken the place of cold calls, but that doesn't mean sales professionals are out of work; it simply means they need to recalibrate their skill sets.
As consulting sales representatives, they now engage with prospects later in the sales cycle. Potential customers have already prequalified themselves by registering on a website or proactively asking for more information, so the sales rep's job is to understand the pain points and present possible solutions. Demonstrating empathy and leading the conversation to specific areas of "pain" tends to yield a higher closing rate.
Sales professionals have to harness technology as an enabling tool, interacting with customers and prospects using the same digital channels they use to research business solutions.
New Digital Selling Skills
Today's digital sales rep has to develop new and improved skills, including:
Digital research: Understanding customer needs is paramount in digital selling. That means getting to know everything you can about your customers and their businesses. Research shows that 65 percent of companies that exceed lead and revenue goals also have updated their sales personas within that last six months. Research will help you keep your customer profiles up to date.
Social selling: Digital selling is more about attracting customers than selling them, so you have to present valuable messages to decision-makers when they are ready to buy. That means engaging with customers where they go online to find information—social media. Assess which social media platforms and groups are most relevant to your target personas, and offer information they can use. For example, there are more than 2 billion active Facebook users and 1 billion daily users, many of them looking for business solutions. LinkedIn also can be a powerful social selling forum, especially if you know how to use special interest groups.


Providing content: Hanging out on social forums isn't enough. You have to provide relevant content. That means creating content that supports your value proposition— 83 percent of B2B companies use some form of content marketing to tell their story. It also means monitoring social media channels, repurposing content, and reposting relevant articles to keep your name in front of your prospects.
Building trust: Building trust online is the key to nurturing relationships. That requires transparency as well as providing valuable information. Ninety-four percent of consumers are more loyal to brands that offer transparency, and 73 percent are willing to pay more for goods from companies they consider transparent.
Solving problems: Above all, approach every engagement with a solutions-oriented mindset.
New Sales Management Tools
In addition to adopting a different mindset and a different approach, B2B sales in the digital world requires adopting a new set of sales management tools and techniques:
Activity-based sales management: One of the benefits of digital selling is that everything is measurable. Applying activity-based selling gives you a series of concrete tasks that should yield measurable results. Matching activities to outcomes puts you in control of the digital sales process.
Marketing alignment: Digital selling overlaps with marketing in a variety of ways. For example, social media marketing, content development, and online promotions dovetail nicely with social selling. Working closely with marketing will give you more content and more opportunities to engage with prospects.
CRM tools: In addition to researching sales personas, you will be doing more research on prospects and customers. The more you know about their businesses and their business challenges, the easier it will be to present the right solutions. A well-maintained CRM database allows you to capture everything you learn about customers, as well as share information with other internal departments.
Data-driven results: Analytics have become an important sales tool. Every activity is measured and analyzed, and the data will show you where you are succeeding and where your program needs realignment.
Even in the digital world, selling is still selling. Sales success still depends on establishing rapports and cementing personal relationships. The telephone is still a valuable sales tool, but of even greater value are the online tools at the sales rep's disposal. Today's B2B customers are online looking for information and the right kind of assistance. Your job is to be there at the right time and provide the solution they are looking for.