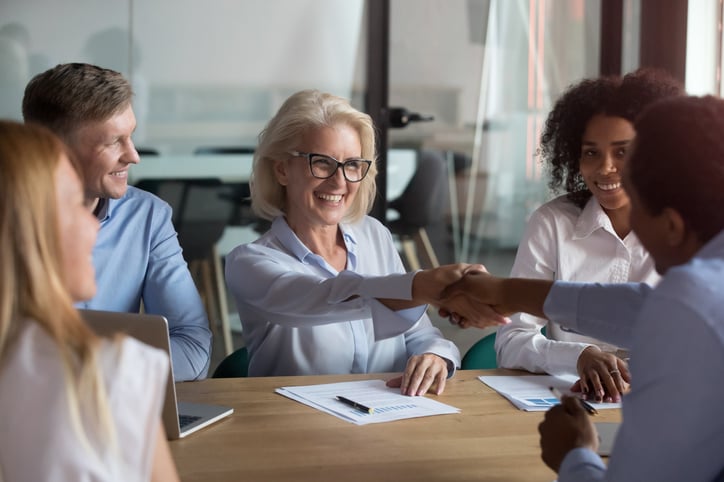 With more companies looking to create recurring revenue models based on subscription sales, the impact of customer churn is higher than ever. The only way that a recurring revenue business model becomes sustainable is if you have happy customers who continue to buy what you have to sell. What we have learned is that having a Customer Success team as part of MarketStar's Sales as a ServiceⓇ offering is essential to reducing customer churn.
In the world of sales, finding new customers costs more than keeping current customers. Eighty-two percent of companies agree that keeping existing customers is cheaper than acquiring new ones, 65 percent of most companies' business comes from current customers, and increasing customer retention by just 5 percent can increase profits by 25-95 percent. This is especially true as you start looking for recurring revenue.
The ultimate goal of any business is to maximize customer lifetime value (LTV). LTV is driven by many factors, but the general formula is customer value (i.e., how much they buy from you multiplied by how often they buy) multiplied by customer lifespan (how long you can retain them as a customer). To achieve maximum LTV, someone has to be responsible for the care of those customers and give them the best possible customer experience. That's the job of the Customer Success team.
What Is Customer Success?
If you are not familiar with the concept of Customer Success, it is an extension of sales, but it is not the same as customer service or customer support.
Traditional customer service staff are responsible for post-sales support. If there is a problem with the product or service, then customer service reps are available in the call center to receive calls to assist customers. That's the primary difference between customer support and Customer Success—customer support is reactive whereas Customer Success is proactive, working with customers from the outset to help them get more value from products and services.
The Customer Success team may provide some sales support when closing new customers, but most of their responsibility is for after the sale. Customer Success is responsible for working with customers to understand their needs and specific pain points and help them address those problems, which means they are expected to provide a range of services to ensure the customer gets maximum value from the product or engagement, including:
Onboarding and orientation to educate the customer and help them use what you are offering to maximum advantage
Serving as a liaison with the rest of the organization and assisting with customization by engineering, financials, fulfillment, and other issues
Gathering customer feedback and maintaining notes in the CRM system to help others in the value chain understand the customer's needs and keep them happy
Identifying opportunities to cross-sell and upsell
Managing the overall customer experience to reduce churn and increase renewals
In short, it is up to the Customer Success team to get the maximum LTV from every customer by delivering an exceptional customer experience.
The Customer Success team consists of different specific roles, such as sales engineers and presales support, professional services to assist with customization and onboarding, Customer Success managers to nurture accounts, and the training team who offers ongoing training and best practices. By creating a Customer Success team, you not only reduce churn, but you also free the sales team to do what they do best—sell—without distractions from having to support current customers.
How Customer Success Reduces Churn
Part of the value of the Customer Success team is the insight they provide from working with customers. Customer collaboration creates a working relationship built on mutual trust. As their job title states, the Customer Success team is responsible for ensuring that the customer succeeds. The working relationship is designed to help customers get maximum and ongoing value, which makes their job easier and certainly makes justifying the cost of the product or service easier. The goal is to get them to come back for renewals and to deepen the engagement.
The Customer Success team is also responsible for gathering customer feedback. Customers expect vendors to act on their suggestions and make product changes and upgrades to improve functionality and value. Feedback becomes an essential part of product development, but it also helps to reduce churn because it makes it easier to head off looming issues.
The availability of more online product information and the free-flowing customer exchange tends to accelerate purchasing decisions, which means churn decisions also happen more quickly than ever. The customer service team is there to predict churn and provide the customer with intelligence and insight to address immediate customer concerns and improve customer retention. If customers' problems are understood and met before they even recognize them, then they won't go elsewhere.
The feedback and intelligence from the Customer Success team also shape product development and marketing strategy. The metrics generated by the Customer Success team along with other market research shape new features and new add-ons. Those same metrics can also highlight weaknesses in go-to-market strategies.
Of course, the value of Customer Success goes beyond client retention. Having a collaborative relationship puts the Customer Success team in a position to identify new opportunities to sell additional products and services and increase the depth of customer engagement. The bigger the spend, the more important the role of Customer Success becomes, and the harder it is for the customer to go elsewhere.
Any Customer Success initiative requires expertise in engaging with customers, uncovering their specific needs, and providing the education, training, and positioning needed to build customer loyalty. It's all about building successful relationships, which is why Customer Success is a logical part of MarketStar's Sales as a Service. For more than 32 years, MarketStar has included Customer Success as part of our services to help our clients expand their customer base and increase revenue.
If you want to learn more about how Customer Success can help you reduce churn and increase revenue, be sure to review our guide, Embracing Customer Success.