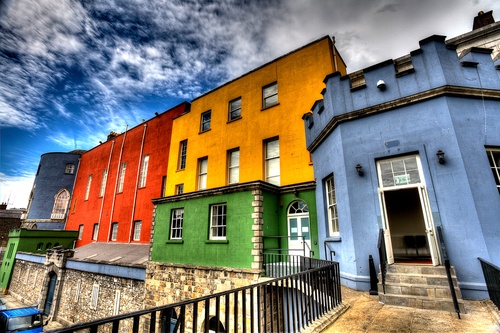 Our global teams mirror the organization and support of their U.S. counterparts, but with localized day-to-day management based on in-country culture and laws. Sales as a Service on a global level means a single management platform, a single point of contact, and worldwide consistency in your global center of excellence.

MarketStar sales centers in EMEA are located in the United Kingdom, Ireland, Spain, Germany, Bulgaria, Egypt, South Africa, and the United Arab Emirates. Our EMEA employees drive client sales through inbound and outbound chats, lead qualification, partner enablement, and partner account management. This post is written by our Dublin thought leader: Anthony E. Byrne.

It's no surprise that Ireland is a hotbed for tech companies, or that talent from across Europe has come to build their careers within tech sales. Ireland has become the hub for many American tech companies looking to expand into European markets, employ from a strong talent-pool, and reach most major European cities. How did this come to be? It's simple:
Ireland is business friendly
Ireland's attractive 12.5% corporation tax rate is one of the lowest tax rates in the European Union (EU), and that's the tip of the iceberg. Now include EU membership, immediate access to EU countries, political stability, and a growing economy. What this means is businesses looking to expand their European and global footprint can ill afford to pass up this opportunity to increase their revenue.
Ireland has a heavy footprint of highly profitable, multinational technology companies, and many in the sector refer to Dublin as the "Silicon Valley of Europe." Google, Facebook, Microsoft, Twitter, LinkedIn and HubSpot (to name a few) have all made Dublin the hub of their European operations. But, apart from a low tax environment and EU access, what does Ireland have to offer the International Technology Sector? The answer is simple: our incredible and diverse workforce.
Ireland provides the tools and the talent
With Brexit underway, Ireland will now be the only English-speaking member of the European Union. American-based companies have an easier time standing up operations in a foreign country with a similar language and culture. It allows for decreased time in the feedback cycle, increasing efficiency and income. While this is an advantage for American businesses, it doesn't hinder European sales. It's because there is an ability to hire native speakers who understand the subtle cultural differences for the territories they manage and enable them to make successful sales.
Additionally, the Irish are highly regarded and known for having a natural talent for sales and marketing. In fact, a very strong percentage of the workforce employed by the technology sector work within the sales and marketing disciplines. Is it the stereotypical "Irish Charm" that gives the indigenous population the edge with successful selling? Or is there something deeply rooted in the nation's traditions?
Storytelling is at the very heart of Irish traditions. Why is this so important? Much of Ireland's history and folklore was passed down through the generations orally, and not by written record. An official storyteller would be nominated by the chief for each family or tribe, and this person was tasked with keeping the members up on current and past events. Storytelling is something ingrained into the Irish; we're natural communicators. You could say it's in our DNA. This natural skil becomes a powerful tool in sales and marketing.
Ireland has made significant education investments
Ireland provides a high standard of educated talent through a free 3rd Level/University program. This provides a groomed and local talent pool, and a better-quality workforce. To provide a little more background, the Irish Government introduced free education (for all EU Citizens) a couple of decades ago. This dramatically increased the numbers of qualified graduates into the workforce.
Other major European languages are taught all through the schooling system, making these students more dynamic multilingual by the time they graduate. In particular, Dublin now has a very strong, and growing, tech echo-system culture. Not only do people work within the industry, but their friends, social network, and roommates all typically work within the industry. This encourages a tight-knit group of professionals who are sharing tips and insight on who is growing and where the market is heading. So today, Ireland provides the ideal conditions for multinational technology companies to choose the island as their European base.
Ireland is calling, are you ready?
If it was purely a favorable tax rate we had to offer, then companies could establish bases in Ireland without the significant commitment and recommitment to local employment. Ireland is well positioned in the West of Europe; we have flight access to all the major European cities with no more than few hours commute. Any executive considering an expansion into the European Markets should consider Ireland as a strategic base.
Come for the tax breaks, the talent, the tools, and stay for the experience and the Guinness (it doesn't travel well, trust us on that).