Agility is the key to sales success, so when a pandemic hits, you have to be prepared to change the way your sales team operates. Because of the global COVID-19 crisis, most businesses have closed their offices and are encouraging people to work from home, including their sales teams. Maybe it's time to consider how you are going to restructure your insides sales and prepare to manage your work-from-home sales team.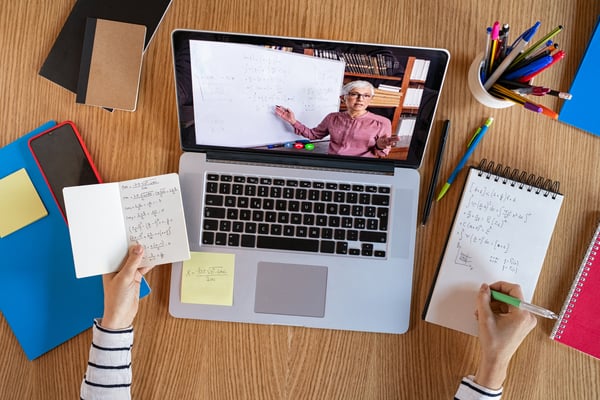 Work-from-home sales is not a new concept. Sales reps have been working from home for decades, using their phone and their computer to interact with customers, schedule meetings, and close new contracts.
To implement a home-based sales force requires planning and the right technology.
Have the Right Infrastructure
To be successful when working from home, your sales team needs to have the right setup to be productive. That requires the right technology and access to the right sales tools. Check with your team to make sure each member is properly equipped.
Make sure they have high-speed internet: Everyone's home internet access is different depending on their cable provider, satellite service, or wireless setup. Be sure your sales team's internet access is adequate for the job.


Have a dedicated workspace: Most work done from home is done on a laptop, but if you are going to be truly productive, your work-from-home sales team needs a dedicated workspace they can use as their home office.


Be sure that sales reps have everything they need: In addition to a computer, be sure your sales team has accessories such as a laptop cable, phone, headphones, printer, and other tools they will need. They will also need access to the company's servers and customer relationship management (CRM) software through a virtual private network (VPN) or some other secure connection.


Everyone needs a dedicated phone line: Whether it's a landline, a cloud-based solution, or a reliable mobile phone, there should be a dedicated number to which all incoming business calls are routed.


Standardize internal communications technology: For internal meetings and conferences, be sure that all sales reps use the same system, whether it's Zoom, Microsoft Teams, Slack, or some other service. Also be sure that they have a web camera, microphone, and all other necessary hardware, such as Logitech's Mono H650e (MarketStar's favorite).
Give Your Sales Team Structure
If you aren't used to it, working from home can be an adjustment. There can be many household distractions, such as laundry, that home repair project you keep putting off, or interruptions from your family. To successfully work from home requires discipline and concentration, but there are things that you can do as a sales manager to make it easier.
Establish office hours: It's easy to sleep late or quit work early when you don't have a boss who expects to see you in the office. Set regular office hours and be sure that everyone knows when they are supposed to be available.


Maintain regular communications: One of the drawbacks of working from home is that it can be extremely isolating. One way to alleviate that isolation is to schedule regular group calls or online meetings. If you are used to having a daily scrum, move it to a morning video conference to set the agenda for the day. Also, be sure to communicate regularly with each member of the team so they don't feel as though they have been forgotten.


Set up regular reports: To help keep the sales team on task, set up regular reporting protocols. Whether that means regular sales reports or tracking activity in workflow software like Asana, each sales rep should understand what is expected of them, including daily tasks and specific goals.


Establish routines for the team: Try to emulate as much of the regular office work schedule as you can to establish a foundation for the workday. If you have weekly group calls, then keep those on the schedule. If you have lunchtime training sessions, move those to online brown baggers. Any way you can maintain the office routine will help keep your sales team motivated.
Keep Your Work-from-Home Sales Team Busy
One surefire way to keep your sales team productive is to keep their pipeline full. As the saying goes, "If you want something done, ask a busy person," and the best way to keep your sales team producing is by giving them the support they need so they can focus on activities that yield maximum returns.
Outsourcing strategic parts of your inside sales process can free your team from unproductive tasks and keep them focused on activities that generate revenue. For example, lead generation and qualification can be extremely time consuming and is not a good use of time for your best closer. With your sales team working from home, the more obstacles you can remove through outsourcing, the more focused they will be on the activities they see as the most valuable.
MarketStar is expertly proficient at supporting inside sales with a variety of services from lead generation to sales coaching, We specialize in supporting successful sales teams with expertise in sales operations, the sales tech stack, marketing, reporting, training, and much more. We have the services you need to support your work-from-home sales team.
To see what we can do for your sales operation, please read our guide, Is Outsourced Inside Sales Right for You?