The coronavirus pandemic has sent shockwaves across the country, grinding our economy to a standstill and forcing many employees to work from home. In these unprecedented times, establishing a new routine with your sales team can feel challenging. But rest assured: They need your leadership right now.
Although this crisis has put many industries on hold, others are still as busy as they were before it, in some cases, more busy. In the midst of all this stress and confusion, your team may very well be expected to keep making sales calls, focusing on Customer Success, and hitting their numbers. If that's the case, then they are likely craving clear, confident guidance to help establish some sense of normalcy—and inspire them to keep up the great work.
Here, we explore five ways to empower your sales team from home: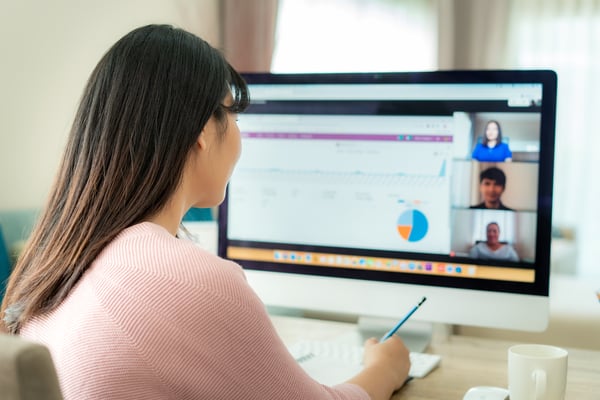 1. Set Clear Expectations and Goals
Even if your team is accustomed to working remotely at times, these new circumstances may make it difficult for some employees to stay focused on work. It's understandable; after all, the Centers for Disease Control states that disease outbreaks can cause a significant uptick in people's stress levels, cause changes in sleeping and eating patterns, worsen physical and mental health conditions, and make it difficult to concentrate.
Amid the haze of stress and the unknown, empower your employees by clearly communicating key information, such as:
Straightforward instructions for what you're expecting from them during this time
Important deadlines
The goals that should be their focus
Key performance metrics
Changes that occur within the company that may impact them, such as new sales forecasts or travel guidelines
2. Increase Team Interactions
Establish a new routine that includes frequent communications, whether by video conferencing, conference calls, or a collaboration tool like Slack. This will help keep everyone's head in the game, while also ensuring that you can communicate clearly with your team. It will also encourage employees to regularly share customer and market insights, ideas, and strategies.
To make sure your calls are a help and not a hindrance, keep them short and sweet. Video calls are best kept to 30 minutes or fewer. To ensure that meetings are used efficiently and effectively, segment your weekly calls into relevant topics such as sales pipeline or business development and marketing.
Consider setting up one-on-one calls with each team member so that you can check in on them (both personally and professionally) and lend a hand when needed. Even on larger group calls, be sure to take just a few minutes to ask how everyone is doing. Particularly in the midst of a pandemic, it's important to maintain a human connection with your team. If people seem like they need more time to chat—or vent—set up a dedicated Slack channel for "water-cooler talk."
3. Celebrate Successes
Perhaps more than ever, employees need to feel that their efforts are being seen. Empower your sales team by intentionally recognizing new wins, closed deals, and everything in between.
One way to do this is through company-wide chat channels on Zoom or Slack. A quick shout-out to the entire company about a salesperson's performance can go a long way toward making that person feel recognized and inspiring others to keep pushing.
4. Foster Flexibility and Understanding
We're all living through remarkable times, and people are being pulled in many different directions. Many of your employees are suddenly balancing working from home, helping their children with remote schoolwork, and striving to stay healthy, all against the backdrop of grim news reports every day.
With these extraordinary conditions in mind, it's important that you foster flexibility and understanding within your team. If some employees need to change up their schedules, work to accommodate them. Emphasize that as long as they are hitting their goals, they can have the flexibility they need.
Research indicates that flexible work arrangements not only produce employees who are more productive, but also ensure that workers are more loyal to their company. A Harvard Business School study found that companies that let employees decide where and when to do their jobs "increase employee productivity, reduce turnover, and lower organizational costs."
In the face of the coronavirus pandemic, a flexible work policy and an understanding tone will help mitigate the stress that your team is feeling. When everything else is demanding their time and attention, at least they know they can enjoy a bit of flexibility around their work—and that you will understand where they are coming from.
5. Set a Good Example
Show your team that you're prioritizing flexibility by walking the walk. Use your actions to demonstrate that work isn't everything right now. Get your work done during business hours, then make a point of logging off for the day. Avoid the urge to send emails at all hours of the night, and respect your team's time zones when scheduling meetings.
Meanwhile, honor your employees' statuses on platforms like Zoom and Slack. If someone is unavailable, send an email asking them to get back to you, or use Zoom's helpful "Notify Me When Available" feature.
While you're striving to empower your sales team, be sure to take some time to recharge your own batteries. Take a break from the news, connect with your family and friends (even if it's over the phone), and get some rest. In these hectic times, you'll be much better equipped to lead if you're also feeling empowered.
Set Your Team up for Success
During this unprecedented crisis, your customers need you more than ever, which is why it's important to keep your team engaged and empowered. MarketStar can help you be there for all of your customers—both the ones who need you most, and the ones who haven't found you yet. Our Sales as a Service® model is built to increase your pipeline by using proven methods to engage with prospects.
To learn more about the benefits of Sales as a Service, download our e-book, "Sales as a Service: The MarketStar Advantage."