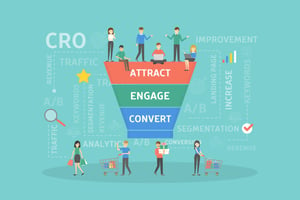 In any business the customer comes first, which is why companies invest in customer relationship management (CRM) software. CRM platforms make it easier to take better care of customers and prospects, capturing everything you need to know about the status of any engagement and providing the insight you need to help keep the sales pipeline full. In fact, 91 percent of companies with 11 employees or more are using some form of CRM software, and as a result, revenues for CRM software sales have risen to $39.5 billion worldwide in 2017.
CRM can be invaluable for maintaining current customer relationships as well as managing sales leads. In fact, statistics show that companies can get a return of $5.60 for every $1.00 spent on CRM.
However, statistics also show that 25 to 60 percent of CRM projects fail to meet expectations. That's largely because organizations invest too much confidence in their CRM platforms and expect them to be a panacea to solve problems such as poor marketing, a weak sales pipeline, or lack of integration and transparency between business processes. Without the proper understanding and preparation for the role CRM plays in the sales process, a big investment in CRM tools could prove to be a big bust.
That's why more companies are electing to take advantage of the myriad of free CRM solutions available. These tools may be free, but many of them are quite powerful and can drive sales automation at the same time as facilitating customer management. Both large and small companies are adopting free CRM products and integrating them into their sales processes to help manage their pipeline.
What to Look for in a CRM
Whether you are shopping for free or paid CRM solutions, there are common features that you should consider:
Online versus hosted
Many of the best CRM tools are available online, which means little or no startup time, no hardware requirements, and no software licenses. If you are looking for the best CRM tools for your sales process, adopting a cloud-based CRM system is an easy way to start. Plus, you get the added advantage of being able to access your CRM data from any location where you have Internet access.
Beyond call management
A good CRM system does more than track contacts, email, and phone calls. To build a client relationship, you need to have a 360-degree view of the customer. That means having tools to track deals in the pipeline, review contract status, provide sales forecasts, and more.
Manage email
Most business is being done via email these days, so adopting a CRM solution that can handle email and create an audit trail is important. Cutting and pasting message content isn't fun or efficient.
Document management
The CRM system also should generate a knowledge base that can be shared across the company. Information needs to be captured and stored in such a way that it is accessible and useful to various departments.
There are other features to consider as well, such as systems integration, importing and exporting data, and customized reporting. No matter what type of CRM system you choose, it's important that you assess the features you need to manage your sales pipeline and ensure that the same data is accessible and usable by everyone in the organization.
Popular, Free and Low-Cost CRM Tools
There are a variety of CRM tools out there, but which one is right for your organization? Here are a few CRM tools you may not be aware of, and most of them are free (or really cheap)!
HubSpot has a CRM solution designed to help you manage your pipeline, complete with contact dashboard, reporting, email templates, and more.
Insightly is not quite free but very inexpensive and has great CRM features, including contact management, lead management, opportunity management, email tracking, and even a mobile CRM app. Pricing starts at $29 per user per month.
FreshSales features integrated phone and email contact as well as lead scoring, visualization tools, email notifications, and a visual sales pipeline. It comes with a free 30-day trial, after which pricing starts at $12 per user per month.
Pipedrive also offers a free trial and boasts about its simplicity, offering a single interface to track emails and calls, views to help you track sales progress, and tools to keep activities focused where you want them. Pricing starts at $12.50 per user per month after the free trial
Zoho is a popular CRM solution for small business. They offer sales forecasting, scoring, KPIs, customizable forms, and more, all designed to manage all aspects of customer relations. Zoho offers a free 15-day trial period after which prices start at $12 per user per month.
Shop around, and determine which CRM features will best suit your organization and help you streamline your sales pipeline. With the right customizable processes and data management tools, you may find that a free or low-cost CRM package integrates nicely with your current deal flow and can help build and manage your sales pipeline.