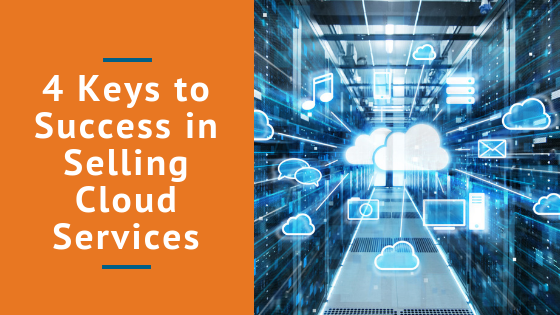 If you are selling enterprise technology, you are probably selling cloud services. The cloud drives most technology decisions since hosted services are being used to handle data, business applications, development, and virtually anything that supports enterprise-driven businesses. You should include cloud services as part of your channel partner program.The competitive landscape of cloud computing is changing, as is the way to sell cloud services. For example, choosing the right cloud platform is no longer solely part of IT solution selling, but rather part of selling business solutions, involving multiple stakeholders.
Choosing the right cloud platform has become an important collaborative company decision;cloud computing is the foundation for all of today's digital business, and the wrong strategy can create a roadblock to success.


The Competitive Cloudscape
When you look at the competitive cloudscape there are six dominant cloud competitors: Google, Amazon Web Services (AWS), Microsoft Azure, IBM Cloud, Oracle, and Alibaba.
AWS still has the lion's share of the cloud computing market, partly because it was one of the first vendors in the game to start providing infrastructure services in 2002. AWS is the most mature of the cloud service providers, is the market leader in Infrastructure-as-a-Service (IaaS), and has become the "safe choice" for cloud services according to Gartner.
Microsoft's commercial cloud services led the market in sales and the end of 2018 with $21.2 billion in revenue versus $20.4 billion for AWS. Microsoft's commercial cloud services include both its Azure platform for enterprise customers and its Office 365 hosted software applications, so Microsoft is still trailing in enterprise cloud services, although Azure is gaining fast.
IBM's cloud services closed 2018 with $10.3 billion, making them number three in revenue. IBM lost some ground in 2018 and is now tied for market share with Google, which reported $4 billion in revenue last year. Oracle is in the mix as a strong competitor, having closed 2018 with $6.08 billion in revenue. Alibaba, the newest competitor coming out of China, is rapidly gaining as the fifth-largest global cloud company in market share, closing 2018 with $2.2 billion.
When choosing the right cloud partners for your channel, you have to look beyond competitive rankings and consider hybrid cloud options. In fact, 84 percent of enterprise customers have a multicloud strategy, using a mix of hosted services to meet their computing needs. And 64 percent have indicated that cutting costs and optimizing their existing cloud strategy is their top priority for 2019.
To date, cloud services have been supporting IaaS to allow customers to provision their own storage and virtual machines, and they offer the data lakes needed for big data and related database applications. The next generation of cloud services will center around machine learning and AI-as-a-Service. Using sophisticated algorithms and the vast storage and processing capacity of the cloud, engineers and data scientists are creating predictive, cognitive data models.
It has become commonplace to mix and match cloud services from different vendors to customize cloud services to meet customers' needs. For example, cloud services such as Office 365 and Google G Suite are ideal for office computing applications, but you still need services such as AWS or Azure for data storage, big data analytics, or DevOps.
A number of cloud vendors have formed their own strategic partnerships, making their cloud services more viable for different customer profiles. For example, AWS has a strategic alliance with VMware, which may make AWS a better choice for VMWare, vSphere, and virtualization. Cisco also has a strategic relationship with Google Cloud services to offer Cisco networking management and security as part of a Google hybrid cloud solution.


Channel Partners Become Multicloud Experts
With the evolution of cloud solutions, channel partner programs have evolved as well. Cloud services are more complex, so it is more difficult helping customers navigate the various options available. As part of consultative selling, you need to have a better understanding of customers' computing needs and be able to recommend a combination of hosted services and deployment models. You also need to be able mix and match offerings for compliance, performance, and cost, and find ways to simplify billing and management for multiple cloud providers.
Here are four key elements you need to effectively sell multicloud solutions as part of your channel partner program:
Build customer profiles—Inventory customer needs and map those needs to available cloud services. Needs will change over time, and you want to be in a position to identify those changing needs and adjust the cloud service offering accordingly.


Build cloud partner profiles—Be sure you understand what cloud vendors are offering and maintain cloud partner profiles. Understand what qualified partners bring to the table, including services, support, and pricing options. Also understand how their revenue models impact your business and contribute to your revenue.


Simplify service packaging—Customers don't want to be bothered with multiple subscriptions and a la carte service fees. Be prepared to create value-added bundles that meet customer needs and simplify management and billing.


Be agile—Selling multicloud services requires more expertise and sophistication. Mixing and matching cloud services is as much an art as it is a science, and you need to be able to refine the service offering to meet changing customer needs.
As the cloudscape continues to evolve, so should your channel partner program. To succeed in enterprise selling you need to keep pace with changes in the cloud marketplace and be prepared to create new combinations and customizations to meet your customers' changing needs.