We are living in unusual times. The COVID-19 viral outbreak is the worst pandemic in 100 years, and it is having a dramatic impact on people and businesses around the globe.
Here in the United States, events from concerts to the NCAA playoffs have been canceled. Movie theaters and restaurants are either closed or empty. State governments are taking steps to protect citizens from contagion.
Other businesses are also taking steps to protect their employees and their customers. Businesses are closing their doors and, where practical, are requesting that their employees work remotely. Thanks to technology, we are in a better position to not only deal with the coronavirus pandemic, but also to continue to work and support our customers at the same time.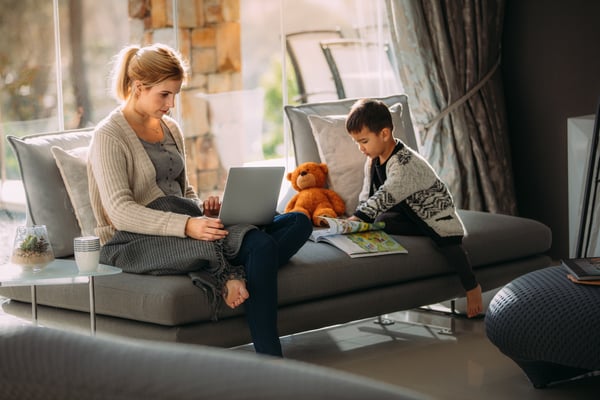 The coronavirus is thought to be spread by person-to-person contact or close proximity to an infected person, especially if they are coughing. Because the virus seems to be spread by physical contact, surfaces can also become infectious by touch, which is why regular hand-washing, disinfecting surfaces, and other precautions are necessary. Because the virus is so contagious, gatherings of more than a few people are not recommended, and that includes staff meetings.
Support Working from Home
Telecommuting has become commonplace, but this is the time to encourage everyone to work from home if they can. Most of our work in the B2B world is conducted via email and using shared resources, so telecommuting should be easy for many. However, there are steps you can take to promote better productivity:
Establish a work-from-home policy. If you don't already have one, consider establishing a work-from-home policy that includes specifics such as keeping regular work hours, communications, performance expectations, and so on. If you already have a policy in place, you may need to revise it to address the current crisis.
Set expectations. Statistics show that working from home can actually increase productivity, but it can also impact efficiency for workers who are not used to working remotely. Establish expectations about work performance.
Take steps to ensure data security. Working outside the office can pose a data security risk. Be sure that employees are aware of potential security risks, such as connecting over an open Wi-Fi connection. Also, be sure to have a VPN connection or some other form of secure link in place for company communications.
Set up a shared workspace. If you don't already have online collaboration tools in place, it's relatively easy to set up a shared work environment. You can use Dropbox, Google Docs, Yammer, and other online collaboration tools to share documents and files. You also can use Zoom, WebEx, or another teleconferencing platform for meetings or one-to-one interaction.
Stay in touch. Most importantly, stay in touch with your staff. Working at home can be extremely isolating. Be sure to give your team regular updates about work in progress, and what's happening back at the office.
What can your business do to help stop the COVID-19 outbreak?
To protect everyone, businesses should take steps to limit the spread of the disease in the workplace. Here are some things you can do:
Encourage sick employees to rest and self-quarantine. Actively encourage all workers to stay home if they are sick. Make it easier to work from home if possible and consider loosening company policies about paid sick leave and time off so that staff are more willing to stay home.
Promote better work hygiene for all employees. Post warnings about the spread of the disease and encourage routine precautions such as regular hand-washing and avoiding physical contact such as handshakes. Also, make sanitary wipes and hand sanitizers available throughout the workplace.
Perform regular comprehensive cleaning. Be sure that the entire environment is cleaned regularly and thoroughly. Wipe down all surfaces, workstations, and countertops with disinfectant, and even consider wiping down doorknobs and handrails at regular intervals during the workday.
Avoid travel. If you or your staff have business travel planned, consider canceling it. Most major trade events have been canceled and most airlines are willing to provide credits and refunds for travelers. These days, most business can be conducted by teleconference, so determine if a trip is really necessary.
Talk to Your Customers
With everyone working from home, this is an ideal opportunity to reach out to customers. Check in to see how they are doing throughout this time of chaos and let them know that your team is available to provide support.
With more businesses closing their doors and more executives working from home, this is an ideal time to engage with prospects and customers. They probably have more time available to hear what you have to say, and they may even be using the downtime to strategize for the future. Ask about their plans and discuss Customer Success strategies.
At MarketStar, we are experts at remote sales strategies and Customer Success. If you want help building your business, even in this time of crisis, we have the resources you need. To learn more, download our guide, 5 Outsourcing Strategies for Inside Sales.