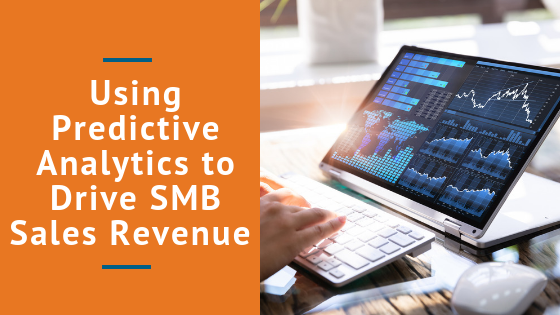 One of the great things about selling in the digital age is business intelligence. Organizations are drowning in data generated by CRM systems, ERP platforms, online marketing, customer support, and a host of other sources. Thanks to data analytics, we know more about our customers, target markets, and SMB sales opportunities than ever before. Additional assistance from predictive analytics also helps sales teams be more productive and maximize their success more effectively than they could through their efforts alone.
You don't need to be a data scientist to take advantage of predictive analytics, but it does help to understand what to expect from analytical models. Predictive analytics use historical and stored data with statistical algorithms and machine learning to predict outcomes based on past behavior. This is not a new science—people have been betting on sporting events and horse races using predictive analytics for years. However, the quality and the sheer volume of information coupled with big data techniques have made predictive analytics more accurate, and therefore more relevant for driving sales in the B2B world.
There are a number of ways that predictive models can use data stored in a company's database to promote data-driven decision-making. Here are just a few ways that predictive analytics can be used to drive sales revenue:
Better Lead Scoring
In order to drive revenue, you need your sales team to focus on the SMB sales leads that are most likely to close. Using predictive analytics, you can create more carefully defined buyer personas using corporate backgrounds, demographics, and other data to determine who your ideal customer is, who is ready to buy, and most importantly, when they are ready to buy.
Using the right analytics tools, you can assess new prospects by comparing them to similar customers in your database. With analytics, you can assess the prospect's demographics, determine whether they have a real need for your product, plan your sales outreach to meet an optimal timeline, and even predict whom the lead would be most likely to buy from.
More accurate lead scoring keeps your sales team focused on leads that are most likely to convert.
How and When to Approach
Analytics can help guide the prospect's journey through the sales funnel, triggering responses to queries, gathering responses, and managing objections at the right times to keep the prospect warm until they are ready to talk to a sales rep. Traditionally, sales funnels lead a prospect through specific steps until they are ready to buy. By using predictive analytics you can monitor progress and ensure timely response.
How you approach a prospect is as important as when. With all the data from past sales, you can make better word choices when drafting sales pitches, identify subject lines that perform better, and determine when the best time to engage with the greatest likelihood of closing is. Analytics can also help you craft the right offer based on company size, budget, need, and other factors.
Upselling, Cross-Selling, and Churn
As B2B sales (especially technology) becomes more focused on recurring revenue, it is essential to use predictive analytics after the initial sale. Ongoing efforts to gather customer data will keep you informed of the next steps in the customer's journey. As customers start looking for new information, data sheets, blog posts, and website videos, they reveal that they are looking for new or enhanced solutions.
Similarly, you can analyze customer behavior to identify which of your customers may be preparing to choose another vendor. By assessing patterns of previously churned customers with similar profiles, you can create predictive models that can sound the alarm when it looks like you are about to lose a customer. With the right analytics, you can reduce churn substantially.
More Effective Sales Management
Of course, predictive analytics are a real boon for sales management, especially for sales forecasting. Having the ability to accurately forecast sales affects innumerable aspects of sales, such as:
Establishing realistic sales quotas. Using factors in addition to past performance makes it possible to establish more accurate baselines for performance and create more aggressive sales quotas that are still achievable.
Optimizing territory coverage. Some territories may prove richer than others, or there may be more SMB sales in one territory and more enterprise sales in another. Using analytics, you can assess where you need specific expertise and how to allocate territories for optimal results.
Revising sales policies, including compensation models. You can determine what models will yield more sales and higher revenue. For example, Microsoft used analytics to change its enterprise sales compensation model from commissions to consumption of services to improve sales performance.
Staffing changes. Predictive analytics can show where your staffing demands are likely to be in the coming quarter or year. It will also help you adjust if you bring on a number of sales reps at once, building in time until they can become productive.
Impact of product changes. New features, new packaging, and new pricing models will affect sales and revenue. By applying predictive analytics, you can minimize the impact on sales performance by anticipating the outcome of potential changes.
Although predictive analytics can be an extremely powerful tool, you will have to find the best way to wield it. Many CRM and ERP platforms offer analytics out of the box, but they may not be customizable to meet your needs. You could hire programmers and data scientists to help you build the right models, or outsource part of your SMB sales process.
Companies like MarketStar specialize in sales, so we leverage the latest sales tools at our disposal, including analytics. Our sales team uses predictive analytics for all of our clients, which improves lead generation and prospecting, and delivers better results. Because sales analytics are an integral part of our operations, we can customize them to optimize performance at various stages of the sales process.
Predictive analytics can transform sales, but to be effective they have to be deeply rooted in the sales DNA. We can help you master predictive analytics to increase the performance and accuracy of your sales team. Learn more about our outsourcing strategies and we can show you how to apply analytics to increase your revenue.