The nature of sales is continually changing, and organizations that can spot those changes are the ones that identify new opportunities. In B2B selling, buying habits are evolving, and capitalizing on new B2B sales opportunities means building a sales team that's structured to address the new B2B customer. Unfortunately, most sales executives have been slow to identify these changes, let alone to react to them. It's time to take a hard look at your current sales organization and consider building your sales team to meet the needs of today's B2B buyer.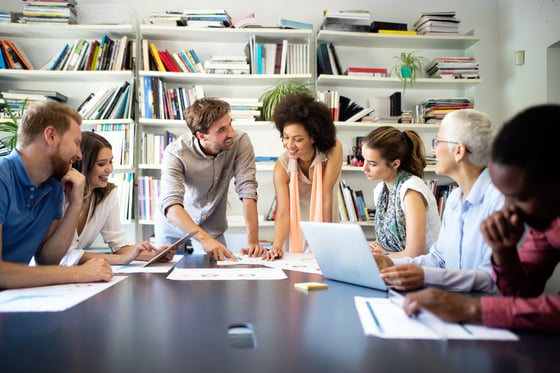 What has changed is the way B2B prospects approach strategic purchases. B2B buyers are better informed than ever. They already have a basic understanding of what they need and how to solve their current problem, so what they want from sales is help making the right product choice. This means that the role of the sales rep has changed. Rather than selling, the rep is now responsible for helping customers understand how to buy. The sales rep's goal is to present their solution in the context of the prospect's point of pain, show them how to solve their problem, turn them from prospects into customers, and then ultimately turn them from customers into evangelists.
The Five Emerging Trends of B2B Selling
We recently hosted a webinar with SiriusDecisions on building sales teams to meet the needs of today's B2B buyer. In that webinar, we touched on the five trends that are shaping successful B2B sales organizations:
Specialization — In the past, buyers were higher-level executives with only a basic understanding of the needs of their customers. Sales cycles were longer, and decision makers were insulated in functional silos. This meant that sales reps could be generalists and still succeed. That's all changed.

Today's B2B buyers have deep expertise in their areas of responsibility, and they expect sales reps to share that expertise. This means that sales teams need to be restructured to match the needs of the prospect at every stage of the buyer's journey. Sales automation has made it easier to fill the top of the sales funnel during the early stage, using custom content to attract and educate prospects. As prospect moves to buyer, specialists with unique expertise need to step in to answer questions and manage product adoption. Outsourcing sales processes at the top of the funnel frees specialists to be more effective later in the sales journey.


Collaboration — When building a sales team, you need to break down the silos and use teamwork to make the buyer experience seamless. Sales teams need to be organized around shared buyers and customers to make the most of specialization and deliver the best customer experience. So rather than having an account manager work with multiple sales engineers and customer service professionals, you create a single team that acts as a unit to address customer needs. This structure promotes consistency and stability, which is what customers expect.


Advocacy — As a collaborative team, you become invested in customer success, and that includes advocacy, i.e., shortening time to value. This requires the sales team to shift its focus from closing the deal to advocating for the customer. This also requires clear definitions of specific sales roles, including after-sales support (which is part of specialization). The common goal is to ensure the customer sees the best possible results.


Efficiency — As we move from field sales to digital sales, technology is making the B2B sales process more efficient. B2B buyers enter the sales funnel ready to buy—they have already started their research—so sales automation can help start their journey. Seventy-seven percent of B2B buyers don't want to talk to sales reps before they do their homework. In fact, only 19 percent of buyers want to talk to a sales rep at the awareness stage, but 60 percent want to talk to sales at the consideration stage. More buyers want self-service selling, which reduces customer acquisition costs and frees up more resources for later in the sales process when expertise is needed.


Personalization—By narrowing sales reps' responsibilities, they can focus on delivering the best value to the customer. This means building a sales team that is prepared to tailor insight and provide customized solutions. It also means reorganizing sales teams to capitalize on their expertise. For example, rather than grouping sales territories by geography, smart organizations are organizing their teams to support specific market segments. This makes it easier to specialize in solutions for verticals such as retail or government, which engenders a deeper understanding of customer challenges and potential solutions.
Managing Your Sales Resources
As you can see from these five trends, the secret to B2B sales success is building a sales team structured to promote customer success. The team needs to be structured to make the most of specialization and collaboration, advocating for the customer and focusing on their needs. Having customers to do much of their own research at the start of the sales journey makes them self-selecting. It also lowers customer acquisition cost, which means you can invest more in later stages of the sales process. This also means compartmentalizing steps in the sales processes to promote efficiency and cut costs.
That's why more sales organizations are outsourcing more of the sale process to Sales-as-a-Service providers like MarketStar. With more expertise and personalized service, your sales organization has more value working with well-qualified prospects and customers, but who manages the pipeline? Sales-as-a-Service companies are experts at lead nurturing and qualification, managing prospect self-discovery, opening new markets, and dealing with a wide range of tasks that are critical to the sales process.
When you engage the right Sales-as-a-Service partner, they become part of the collaborative sales process, collaborating on go-to-market strategy and dealing with tactical issues, which leaves your expert sales team free to pursue more important activities. If you want to understand more about how Sales-as-a-Service can fit into your sales organization, be sure to read our e-book, Is Outsourced Inside Sales Right for You?