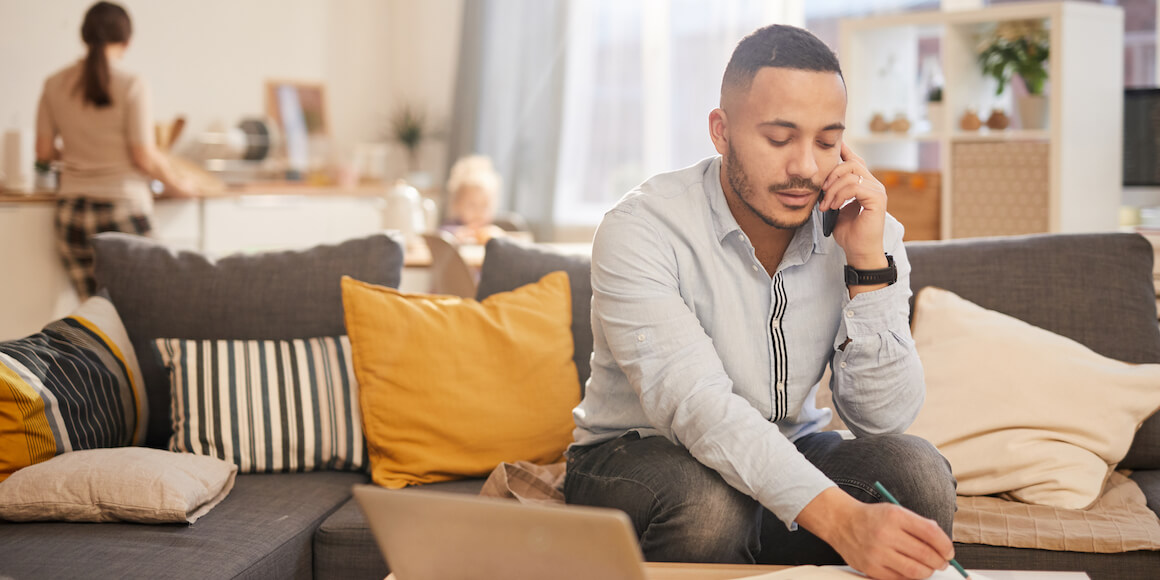 Thanks to the COVID-19 pandemic, the way we work has changed forever, including for sales reps. Where once we would gather in team meetings to set strategy and review objectives, we now gather online using Zoom, Google Meet, or other collaboration tools. Where sales reps used to spend time visiting customers, they now work with customers remotely. Even trade shows and conferences are now virtual (or will frequently have a virtual option for guests). For sales reps, this presents a new challenge: maintaining sales productivity while working from home.
As the pandemic continues, it's clear that working from home is a trend that will continue (and many Americans have grown to prefer this new normal - but we can dive into this topic at a later date). According to the "Future Workforce Pulse Report" from Upwork, 41.8 percent of Americans are now working fully remotely. By 2025, 36.2 million Americans will work remotely compared to the 16.8 million who worked remotely before the pandemic. Though the future of remote work is still in flux, in one Gartner survey, 74 percent of respondents said they would make at least part of their employees fully remote.
Given the nature of sales, it makes sense that sales reps will be among those who will continue to work from home. This means developing new strategies to collaborate with team members, work with prospects and customers, and maintain sales productivity. Whether you are working from home or in an office, maintaining sales productivity is a matter of being organized and creating structure.
Those are just the facts, but how can this new lifestyle have a positive impact. The answer is easy. Let's start with the basics for your sales team.
Working from home requires structure.
The biggest obstacle that most encounter when transitioning to working from home is learning how to separate work from home. A few simple steps will help you establish boundaries between work and home so you can stay focused.
Start with a dedicated workspace.
Working on the dining room table or living room sofa is fine for occasional tasks, but you need dedicated home office space if you want to be productive. Even a small desk in a corner set aside solely for work will provide a place where you can be productive.
Be sure you have the right tools to promote sales productivity.
In addition to telephone and internet access, be sure you have access to the right software and collaboration tools. The company's IT department should be able to provide secure access to VPN resources and cloud services such as CRM tools, Salesforce, Slack, and other SaaS tools.
Although it is tempting to work in pajamas or sweatpants, your clothes affect your work attitude. You can be casual but not slovenly. Start your day with a shower, and be sure to dress for work. Wearing the right clothes affects how you feel about yourself and how you come across to others.
Establish a work schedule.
Regimentation promotes productivity, so establish a routine. Start work at the same time every day, and set aside time for breaks, to take a walk, and for lunch and snacks. Also set aside time to connect with team members. If you are used to having a morning meeting in the office, set up a virtual meeting instead. Set aside time to chat with coworkers, and maintain social interactions as well as professional conversations.
Establish house rules about work.
Working from home will lead to interruptions from kids, pets, deliveries, and other distractions. Try to keep them to a minimum. Establish times when your spouse or children can talk about household issues, and avoid doing chores such as laundry during work time.
Maintaining sales productivity from home requires focus.
Once you have your home workspace squared away, you can start focusing on ways to maintain your sales productivity.
Revisit sales basics.
Start by revisiting the basics, such as the AOR approach to sales: activities, objectives, and results. Map your day-to-day sales activities to achieve sales goals. For example, how many follow-up calls will be required to meet sales objectives? Of course, not all activities will directly lead to the desired outcomes, but try to align the objectives and the activities. Ultimately, you want the objectives reflected in the results. Develop metrics that measure the results of activities against objectives.
Use tools to your advantage.
Even if you have the right sales tools and technology available, you still need to use them to your advantage. For example, maintain a shared calendar for meetings and appointments to make scheduling and collaboration easier. Use real-time collaboration tools such as Skype, Slack, and Facebook Workplace to connect with colleagues on the fly. Use Zoom, Google Meet, and other videoconferencing tools to improve interactions. And be sure to keep up with ERP and CRM data entries as part of your activities.
Just because you are working remotely doesn't mean you shouldn't have access to the best resources available. You are still part of a sales team, so you should have the support you need to identify and qualify sales leads. Outsourcing to a sales-as-a-service partner such as MarketStar is one way to do it. You also want to get help developing quality sales content to support lead nurturing.
Stay connected.
Many feel that working from home can be isolating. Be sure to schedule regular team meetings and strategize as a group. Also, establish group metrics to measure success. This will help you deliver the results in your AOR strategy.
Sales productivity is the result of a team effort, and it's more difficult to stay connected to the team when you are all working remotely. Make the effort to stay connected and stay engaged. It also pays to divide the sales responsibilities and establish a team of sales specialists.
Outsourcing requires the help of an expert.
If you don't have the right support expertise in-house, outsource it. MarketStar is an expert at supporting B2B sales organizations with B2B sales specialists. B2B selling is becoming more complex, especially with remote sales teams, and successful sales organizations are compartmentalizing sales functions, adopting a "divide-and-conquer" approach that brings in the right resources at the right moment.
As your sales organization develops new strategies to drive sales productivity from home, MarketStar has the resources you need to provide support every step of the way. To learn more, be sure to download our resource guide, The Full B2B Sales Team: Specialized Sales Roles to Accelerate the Sales Cycle.