The COVID-19 crisis is something we have never seen before, and it is affecting every business across the globe. Operations are far from normal, and in many locations, businesses have closed their doors and asked employees to work from home.
Your channel partners are being affected as well. Deals that were in the pipeline have paused, stakeholders are in a new work environment (WFH), budgets are now uncertain, and everyone is taking a deep breath, waiting to see what comes next.
With normal business on pause, now is the time to step up channel support and strengthen your partner relationships so we can all weather the crisis.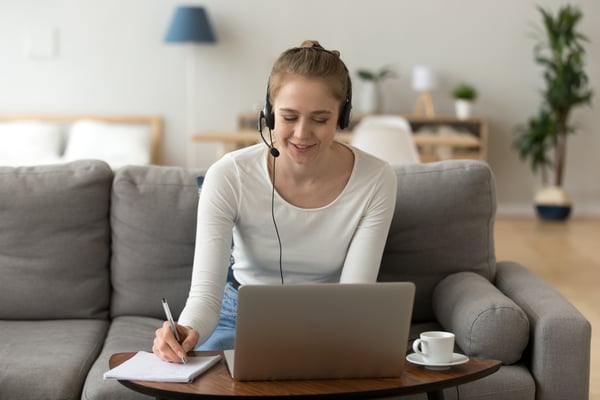 HubSpot has been posting regular updates on the impact that COVID-19 has had on sales and marketing using data gathered from more than 70,000 HubSpot customers. At the time of this writing, HubSpot reports that buyers are just starting to reemerge.
The shift to working at home has stabilized to the point that more prospects are ready to engage online. At the same time, deal flow has slowed, with deal creation dropping between 17 and 23 percent the last two weeks of March respectively.
Overall website traffic in March, however, was up 13 percent from February's. With new market uncertainties, HubSpot's advice is to focus on education rather than trying to close new deals, and that means adjusting sales expectations with your partners.
What You Can Do for Your Partners
Your channel partners need your support more than ever. They are struggling with the same issues we all are, trying to keep employees safe while supporting day-to-day operations. They are also struggling to maintain sales quotas.
There is nothing normal about this work climate, so your best approach is to acknowledge that, for now at least, the rules have changed, and to work with your partners so we can all come through this crisis ready to get back to business.
Here are some steps you can take to support your partners:
Maintain communications: Maintaining close partner collaboration is more important than ever. Work with partners to reassure them and ask how you can best support them. Your sales partners are your ground troops, which means they are on the front lines, interacting with prospects and customers and gathering intelligence about current market conditions. Close collaboration will help you better understand what's going on in the channel, the challenges your partners face, and what to expect.


Have different expectations for different markets: Not all markets will be affected by the coronavirus crisis in the same way. For example, though the travel and hospitality business has stopped altogether, pharmaceuticals, remote data access, security, and other markets are seeing a temporary spike in activities. Prioritize sales opportunities. Identify those prospects that are in immediate need and the tactics and cross-functional teams required to close them. Identify potential growth opportunities and the prospects you will need to nurture until the crisis is over.


Adjust your benchmarks: Deal flow will slow down, so you need to reset expectations. Use your sales stack to generate analytics to determine where sales are coming from and in what volume, and adjust for a longer sales cycle and smaller deals. The conditions created by the COVID-19 crisis are not in your control, so continue to monitor sales activity and make adjustments to suit the new reality.


Help build the pipeline: Work with your partners to develop special deals and promotions that will increase interest and fill the pipeline. Offer discounts, pilot programs, training deals, anything that will promote interest and demonstrate real customer value.


Refresh your sales messaging: The COVID-19 crisis has changed everyone's priorities and perspectives, and your messaging needs to reflect that. It's easy to follow everyone else into fear-based marketing—"How will COVID-19 affect your business?" Avoid the FUD (fear, uncertainty, and doubt) factor. According to SalesLoft, email messages with "COVID" or "coronavirus" in the subject line see a 40 percent decline in open rates. However, don't rely on pre-crisis messaging either. Try focusing on ROI and the positive financial impact your products and services will have.


Stress renewals: In industries that are more heavily hit, talk about renewals but include payment terms as part of the conversation. Help your partners empathize with customers and develop strategies to minimize churn and maximize customer retention.
When times are tough, it's time to pull together. Talk to your partners, schedule regular group calls, and stay on top of their needs and insights.
Partnering to Maintain Sales Momentum
This is also a great time to outsource sales support. With the right Sales as a Service® partner, you can build your pipeline and ensure that you have more business in the queue as business slowly returns to normal.
Rather than struggling with lead generation and qualification or managing with less profitable markets, an outsourced sales team can bring a fresh approach and provide added support where it's needed most. Collaborative selling success is based on the principle of divide and conquer, wherein each member of the sales team can focus on what they do best.
It will take some time for business to return to normal, but that doesn't mean sales and marketing grinds to a halt. Now is the time to reassess strategic aspects of the sales program, focus on areas that will yield the greatest immediate returns, and rally the resources you need to keep the deals coming.
This is the time to look to your partners and to find new partners that can help you maintain sales momentum through the crisis.
If you want to learn more about outsourcing strategies and making the most of Sales as a Service, be sure to download our e-book, Sales as a Service—The MarketStar Advantage.