Times are changing, and so is the way that B2B buyers source new business solutions. This means that you need to rethink your approach to building a sales team. Customers aren't looking to buy specific products as much as they're looking for ways to solve business problems.
As a result, sales territories are fading in favor of selling using vertical market expertise. It's a buyer's world, and customers are better educated and want more value and better service, and so building a sales team that can offer better solutions requires a new strategy.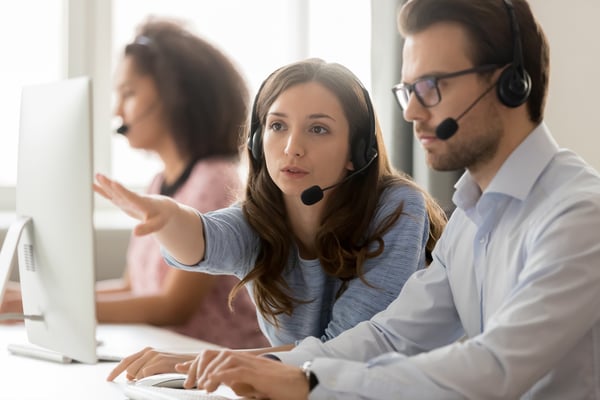 Many sales organizations are built using hierarchical structure with top-down management and rigid functional silos. This old-school sales structure can be less cost-effective, because you're using more experienced and expensive sales staff to manage accounts.
It also inhibits collaboration and makes it harder for the sales organization to be responsive. Building a sales team to support today's B2B buyer requires creating a diversified team that can support the buyer at each step and help them find the right solution, not just sell them a product.
Five Trends That Are Changing the B2B Sales Team
Today's modern sales organization needs to be structured to be more responsive to customer needs. This includes supporting the Buyer's Journey from initial query to a quote, and from proposal to close and onboarding.
It requires fast response time and most importantly, business context and solid value. Buyers want to know how solutions will address their specific problem, and that requires a different and more sophisticated sales approach.
In today's subscription economy, the goal has to be to not only sell the customer, but to also make them an advocate so that they will renew, scale, and refer.
By restructuring your sales organization, you can not only respond to customer needs and provide ongoing value, but you can lower sales costs as well. Here are five trends that are reshaping the sales organizations:

Specialization: Sales professionals are moving from generalist to specialist, assuming new specialized roles to help the buyer at each stage of the journey. At the top of the funnel, you want a dedicated lead development rep (LDR) to handle prospect discovery and validation.

As soon as the buyer is qualified, an account executive (AE) or account manager (AM) oversees customer acquisition through the trial period. When the buyer becomes a customer, they are turned over to a Customer Success representative (CSR) to handle onboarding and support. Rather than having one AE responsible for the end-to-end process, specialists (such as sales engineers) at milestone steps deliver a better customer experience, which makes the process more valuable and cost-effective.


Collaboration: To deliver a frictionless buying experience, sales specialists need to work together. To promote teamwork, incentives are awarded on the basis of team performance. The beauty of this approach is that it's scalable.

For example, account executives and account managers can be moved to new teams without losing continuity or disrupting the sales process. Personnel can also be allocated according to need. For example, if enterprise sales need more support at the front end of the sales journey, the team can have two LDRs and one AE to provide better customer service.


Efficiency: Using the right tech stack to guide the Buyer's Journey affects team efficiency and company profits. B2B sales requires that you stay up on the latest technology, and then select the stack that works best for your organization. The key is to keep the process moving and work toward shortening the time to close a sale.


Personalization: B2B sales success requires personalized service, which is why more organizations are focusing on industry specialization rather than territories when building a sales team.

Being an industry expert in a vertical market such as technology, finance, healthcare, or entertainment affords you more credibility because you know the terminology and the market and can identify the buyer's issues. More collaborative sales teams are being allocated by industry to provide more personalized service and improve ROI.


Advocacy: In the new B2B economy, Customer Success is more important than closing the deal. The goal is to find the right customers who will get the best value from your product or service.

Research shows that companies that have a strong Customer Success

program are

54 percent more likely

to retain 90 percent or more customers, and

80 percent of buyers say they make their decision based on customer experience. Investing in customer success leads to higher retention rates which increases customer lifetime value (LTV).

Focusing on Customer Success rather than just acquiring new customers pays bigger dividends in the long run. Improving Customer Success reduces churn, which increases LTV so that you can invest more in sales without sacrificing profits. When you restructure to ensure Customer Success, everyone wins.
If you want to learn more about these five sales trends and how they can apply to your sales organization, be sure to review our webinar, "Set Yourself up for Sales Success in 2020."