As many economies around the globe have slowed because of COVID-19, businesses are working to adapt quickly until the worst of the pandemic is over.
In many industries, sales have fallen as both consumers and businesses have cut back on spending. One study found that of the businesses seeing decreases in their sales pipeline, 64 percent are reporting moderate decreases and 16 percent are reporting significant decreases. The top reasons for shrinking sales opportunities are canceled events, travel restrictions that have eliminated face-to-face meetings, and new work-from-home requirements.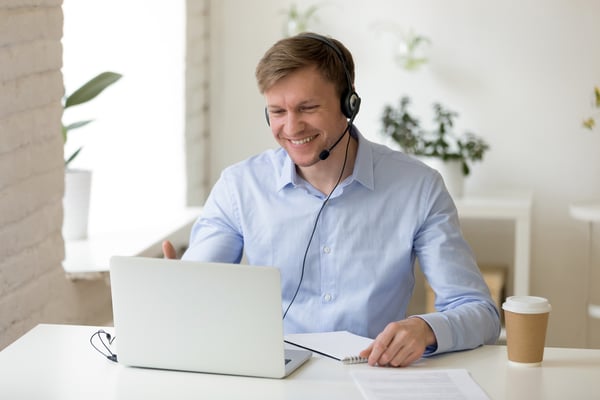 Many small companies have had to shut down temporarily, while even the largest, most well-established corporations have been forced to furlough or lay off hundreds or even thousands of workers. For now, it seems everyone is waiting cautiously until it's clear how long and how severe this crisis will be.
That is why it is more important than ever for your sales professionals to stay in close contact with your current customers, while also ensuring a strong pipeline of prospects. COVID-19 is creating anxiety and uncertainty, and your customers will appreciate clear, continual communication from you. Plus, by demonstrating to both customers and prospects that your company is here for them, you will improve your odds of earning their continued business after the coronavirus recedes.
Of course, a business-as-usual approach is not likely to succeed right now. Throughout this pandemic, companies of all sizes are having to rethink their sales strategy to fit these unprecedented times.
A Shift in Focus
At MarketStar, we recognize the importance of maintaining a strong sales presence during this type of crisis. In fact, we have shifted our business strategy to adapt to the new environment and to help our clients stay connected to their customers during this trying time.
Our Sales as a Service® model is designed to help companies succeed from anywhere. Our sales reps are accustomed to working from home, in an office, or even on the other side of the world. Because MarketStar is agile and adaptable by nature, we have been able to respond well to this unpredictable crisis in several different ways:
A 100 Percent Work-from-Home Approach
When the virus began to disrupt normal life in the U.S., MarketStar quickly pivoted to a fully work-from-home sales force. Our sales professionals are working remotely in focused, technology-driven environments. This seemingly small shift to a work-from-home setup has yielded big results. For the month of March, our sales reps averaged a noticeable increase in the number and length of their emails, chats, and calls, including:
20 percent increase in call duration
15 percent increase in call count
The metrics we measure continue to show positive results.
Sales Support During Hiring Freezes
Understandably, most companies are undergoing a hiring freeze. However, our Sales as a Service model allows businesses like yours to supplement their sales teams without hiring new employees. By outsourcing sales, you avoid the risk of a traditional hiring model and can add support where you need it, even during a hiring freeze.
Talented Applicants
MarketStar has seen a 14 percent increase in applicants for sales positions. As our pool of applicants grows, we are able to select the highest-quality candidates, which ensures that your company has access to the top sales talent available.
Rapid Launch
Our responsive, adaptable sales teams quickly get up to speed so that you don't have to wait for results. We can launch a team 100 percent virtually within four to six weeks, which includes recruiting sales reps, as well as training and coaching them. This enables companies like yours to rapidly benefit from outsourced sales support, without spending time and resources finding, training, and coaching the talent yourself. During the pandemic we have successfully launched three new sales teams for top brands, and expanded the sales teams of existing brands that we represent.
Reduced Attrition
In March, MarketStar saw a 20 percent reduction in attrition compared to the same time last year. The longer our sales reps stay with us, the more empowered we are to provide ongoing training and development and foster productivity that will directly benefit your company.
Keep Your Revenue Flowing
The economy may be in a holding pattern right now, but that doesn't mean your sales efforts have to stall. In fact, it is possible to emerge from this crisis better than before. MarketStar headquarters are in Utah, and according to this Forbes article "Ranked: The 10 US Cities Best Positioned to Recover from the Coronavirus," Salt Lake City is among the top-ten well-positioned to recover ahead of the game.
MarketStar is here to help you through this difficult time, with outsourced sales teams that can enable your company to retain current customers, grow revenue, and build a strong pipeline of leads. Our expert sales reps leverage best-in-class sales enablement technologies and are supported by dedicated and highly connected management. Our vibrant, productivity-focused culture continues in our new work-from-home arrangement, and we are attracting talented new employees, maintaining our rapid launch capabilities, and improving our retention of sales reps.
During the COVID-19 crisis, your sales team can benefit significantly by outsourcing select functions of your sales process, such as lead generation and qualification. This frees up your sales team to focus on higher-value activities that will help the company succeed.
MarketStar has a 30-year track record of scaling revenue via inside sales. Today, as buying patterns rapidly evolve, we can help you modify your approach quickly and capture uncovered revenue.
To learn more about how Sales as a Service works, please read our guide, Sales as a Service®: The MarketStar Advantage.